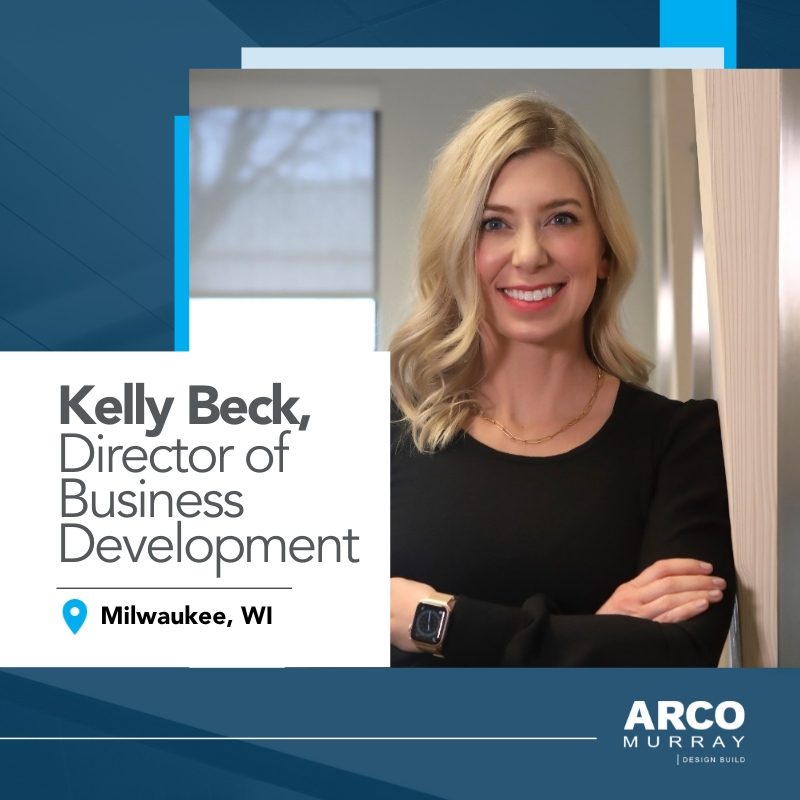 Kelly Beck, a New Berlin native, is helping expand ARCO/Murray's presence in the Milwaukee market as the new Director of Business Development. She will be joining Corie Foley, Vice President, at ARCO's 250 E. Wisconsin Ave. office in downtown Milwaukee. Kelly has been a leader and trailblazer in the construction industry for over 20 years. She previously had director and project manager roles at LERDAHL, Kelly Construction, Burgess-Norton, Corporate Construction and more.
At ARCO, a Top 3 U.S. Design-Builder, Kelly will be responsible for generating new business opportunities and nurturing client relationships – which are vital to ARCO's 75% of revenue stemming from repeat clients. She will work hand-in-hand with ARCO's project team to ensure client satisfaction from initial meeting all the way through due diligence, design, construction and occupancy. Her focus will be on the manufacturing, industrial, cold storage, adaptive reuse, mixed use, office, entertainment, hospitality and healthcare/medical office industries.
She has built long-standing relationships off her proven ability to complete projects on-time and budget, while also understanding her clients' needs and the local Milwaukee market. Kelly is a Certified Healthcare Contractor. She has been involved in all facets of the construction process throughout her career and is an advocate of design-build and the value clients can experience through one turnkey solution.
Kelly earned a Bachelor's degree in Business from DePaul University and is an active member of TEMPO, Commercial Association of Realtors Wisconsin (CARW), International Facilities Management Association (IFMA) and Wisconsin Healthcare Engineering Association (WHEA). She is passionate about supporting veterans in the community as well as Milwaukee's performing arts scene. Kelly is a Corporate Committee member for the United Performing Arts Fund (UPAF) and on the Advisory Council for the War Memorial Center. She also volunteers with the Center for Veteran's Issues (CVI).
Get to Know Kelly Beck in 5 Quick Questions
1. Where did you grow up?
I grew up in New Berlin and graduated from New Berlin West High School. Within a 5-mile radius of my childhood home we had Armeli's, Chumley's & Storms mini golf.
2. What was cool when you were growing up, but isn't cool now?
Everything is cool now, because everyone loves the 90's. The style is back.
3. What is the best piece of advice you ever received?
Trust your intuition. It's usually right.
4. Similar to the above, what is your favorite quote?
"It's better to be a warrior in a garden, than a gardener in a war." – Miyamoto Musashi

5. What's your favorite place to travel to?
I went to Maui with my mother; the memories made there were priceless.
---
Learn more about ARCO/Murray's footprint in Milwaukee by visiting: https://www.arcomurray.com/milwaukee-design-build/