Design-build will represent 44% of construction spending by 2021 according to a 2018 study by the Design-Build Institute of America. With design-build, an owner relies on the general contractor to manage the design and construction process while factoring in budget and schedule. It's different than a traditional design-bid-build process where owners are spending money upfront on design and planning before knowing if a contractor can meet the overall budget during the bidding process.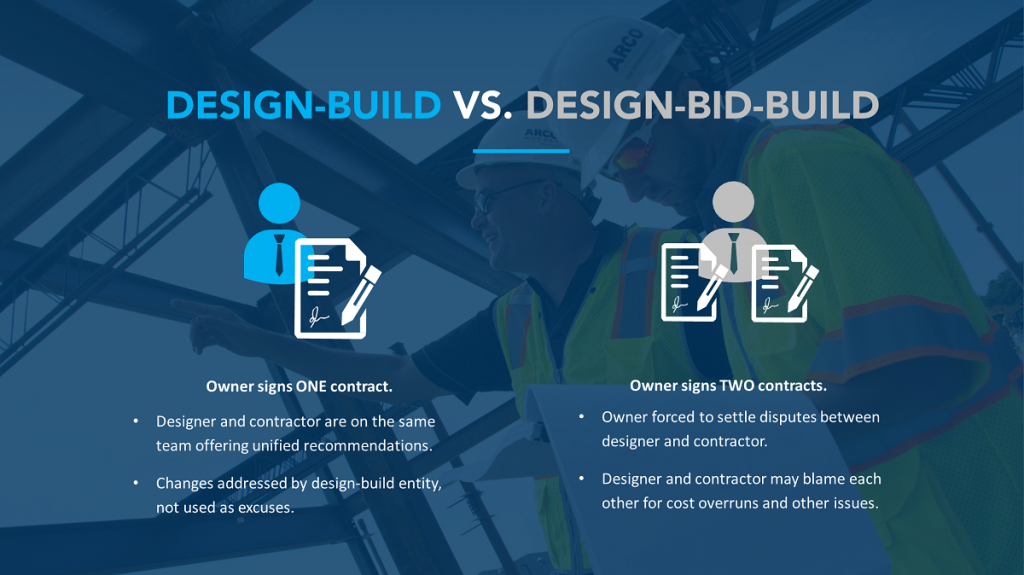 So why are almost half of U.S. projects design-build and trending upwards? Here are three reasons why:
1. Holistic View of the Project
Design-build gets back to the roots of design and construction where there's a single master builder. In its purest form, design-build is about solving for function and optimizing value. The owner only has one contract with a single entity who will handle both design and construction from the initial layout all the way through occupancy.
The designer and contractor work together providing unified project recommendations that fit an owner's schedule and budget. Any changes are then addressed as an entire team, leading to more collaborative problem-solving.
Under a design-bid-build approach, the owner takes on direct risk by managing cost and design, which they might not have the right experience or skillset to oversee. Additionally, they must manage two separate contracts between the designer and contractor. If something goes wrong, blame is often passed from one end to the other causing cost overruns, schedule changes or even litigation.
Design-builders look at different variables, including manufacturing, fabrication, constraints of the product, quality and constructability. Decisions can be made off reliable time and cost information, rather than spending money upfront. The project manager will then work with the owner to dollarize decisions, set a budget, schedule and expectations.
To make the case, consider a design element like a storefront glass system. Pretend the architect planned to draw a glass system with a 12'6" opening not realizing that a glass system over 12 feet in height becomes structural and load-bearing. To accommodate the weight and implied lateral loads (e.g. wind), the frame must now be made larger, and thus, more expensive.
In a traditional design-bid-build approach, the general contractor has little choice but to move forward with the design, purchasing and installing a more expensive glass wall system. Due to the collaborative nature of design-build, the design-builder has ownership of the process and can communicate concern over the size of the opening to the architect during the visioning and concept phase. The value in design-build is that someone with a holistic understanding is in place to make the connection, resulting in a more cost-effective decision prior to implementation.

2. Better, More Agile Design
Another value of design-build is its ability to meet performance requirements with more information and a comprehensive approach. For example, let's say a warehousing owner wants light levels in the warehouse to be adequate for viewing the SKU numbers on packages. Technical requirements ask for a 30-foot candle average that's at least 36 inches above a finished floor. From an energy efficiency, product availability and tech quality standpoint, there are plenty of ways to achieve this.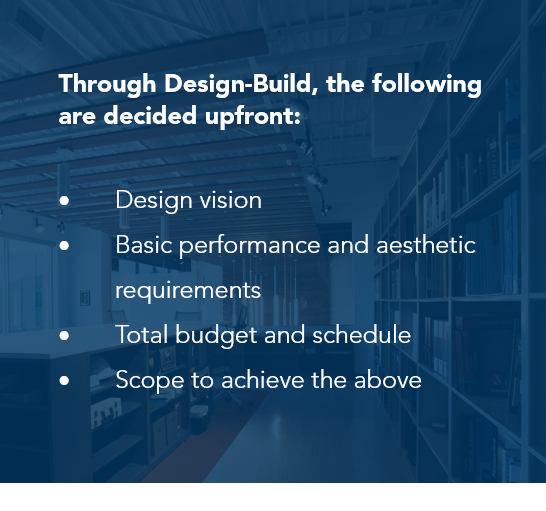 Perhaps it's a $100 four-bulb fixture or $90 six-bulb fixture or $200 LED lights for long-term cost savings. In a design-bid-build approach, the electrical engineer might simply choose something they know theoretically works to achieve the design and meet performance requirements. The design-builder on the other hand would factor all the information and then evaluate different cost-effective options that meet the owner's design intent.
Sometimes what appears to be more expensive in material will actually save on costs because of the trade-off in manufacturing capabilities which impacts the project schedule. The best part is that design-builders can scale this approach for clients growing nationally, saving time and costs for each project delivery.

3. Risk Transference
When owners and agencies use the design-bid-build model, they use a firm or consultant to design the project and create bid documents. Bids are then solicited from contractors to execute all or part of the project. The designer is tasked with designing to a budget and industry accepted standard of care, but he or she is not ultimately responsible to execute a cost. The contractor must then complete the project per the plan and specs. Therefore, neither party is contractually obligated to provide a fully functioning building on budget. This leaves all performance risk with the owner, including cost and schedule risks.
In design-build, remember there is one contract and a single point person who assumes all the risk away from the owner. The design-build contractor is on the hook for design, schedule, cost and performance. To put it another way, the design-build contractor must produce a fully functioning space while adhering to cost and schedule constraints. With the right person at the helm, the outcome is a higher level of trust and less conflict.

Bringing It All Together
Design-build allows for a project design that meets cost and schedule expectations earlier in the process, eliminating the need for re-design or additional complications during bidding or permitting.
Looking for the right partner? Experience a better way to build: partnerwitharco@arcomurray.com
MORE ON DESIGN-BUILD