ARCO/Murray's robust self-storage team recently added to their portfolio in the Pacific Northwest with the completion of Mill Creek Self Storage.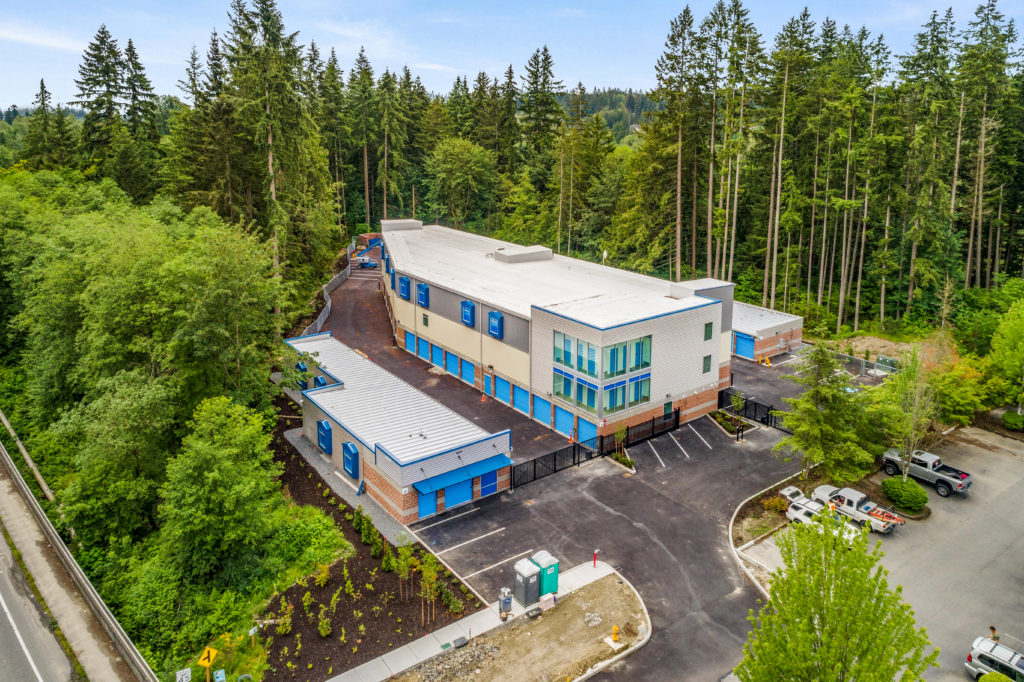 Mill Creek, Washington | July 28, 2022
ARCO/Murray partnered with SmartStop Self Storage REIT, Inc. (SmartStop) to deliver a 36,720-square-foot self-storage facility in Mill Creek, Washington within the greater Seattle area. This facility divides into three separate buildings: a three-story building and two single-story buildings. 68 drive-up units located throughout the facility provide immediate drive up access. A 16-foot clear-height covered loading area connects the three-story portion with one of the single-story portions and provides direct access to the interior hallways. Operations for the facility are managed remotely.
The completed project is adjacent to an existing SmartStop facility, significantly expanding their services in the local area. The facility provides a convenient and accessible amenity to nearby residents in both single and multifamily communities to the north and east such as Wildflower Park, Mill Run and Amberleigh.
Nestled among surrounding evergreen trees, the site received several utility service upgrades including water, sewer, natural gas and 600-amp electrical service to all three buildings. The upgrades help support a facility-wide radiant flooring system that heats the floor directly to ensure asset protection during the winter months. An additional full-notification fire alarm system, using a multitude of audible and visible stimuli, alerts occupants of potential fire or other emergency conditions.
Mill Creek Self Storage marks the first completed project between SmartStop and ARCO/Murray, and ARCO's fourth storage facility in the Pacific Northwest. For this project, ARCO/Murray provided full engineering and permitting services alongside construction, ultimately ensuring a seamless project delivery. Jack Boyle served as the Project Manager while Superintendents Wade Hack and Bill Mayer oversaw the construction process.
About ARCO/Murray
As a national design-build general contractor, ARCO/Murray has amassed over 30 years of experience. From planning to execution, our team uses the industry's most advanced methodology to bring the vision of our partners and collaborators to life. Our unique approach blends an exceptional team with precise planning and expert execution, allowing us to deliver over 8 million square-feet of self-storage facilities across 27 states. Our promise is to make the construction process enjoyable and beneficial and deliver the very best client experience. To learn more about ARCO/Murray visit www.arcomurray.com/self-storage.
About SmartStop Self Storage REIT, Inc. (SmartStop)
SmartStop is a self-managed REIT with a fully integrated operations team of approximately 450 self storage professionals focused on growing the SmartStop® Self Storage brand. SmartStop, through its indirect subsidiary SmartStop REIT Advisors, LLC, also sponsors other self storage programs. As of July 11, 2022, SmartStop has an owned and managed portfolio of 172 properties in 22 states and Ontario, Canada, comprising approximately 117,500 units and 13.4 million rentable square feet. SmartStop and its affiliates own or manage 19 operating self storage properties in the Greater Toronto Area, which total approximately 16,200 units and 1.7 million rentable square feet. Additional information regarding SmartStop is available at www.smartstopselfstorage.com.