Chicago, Ill. (July 28, 2020) – GlobeSt, a premier online destination for commercial real estate content, recently published its annual Women of Influence list in the July/August 2020 edition of Real Estate Forum magazine. The list featured 200 women from across the U.S. making their mark on the commercial real estate world. ARCO/Murray's own Corie Spankowski was honored in the corporate communications category. In addition to being named a Woman of Influence, she was also one of 18 on GlobeSt's Women to Watch list.
Through her tenacity and engineering skills, Corie sets a high bar as Director of Operations for ARCO/Murray's Tenant Solutions division. While supporting associates in executing national construction projects, Corie provides career guidance and serves as a mentor to project managers within her division. She developed and currently oversees the firm's onboarding process which encompasses a six-month training platform and mentorship program. Corie successfully onboarded eight new hires to the Tenant Solutions team in a 12-month period and managed 50+ projects worth $65 million in revenue.
With females making up roughly 10% of the construction workforce, Corie is also helping lead the charge in recruiting and mentoring a new wave of women engineers. She spearheads monthly calls to bring together women across the entire ARCO/Murray organization, sets up events outside of ARCO's Chicago office and was the driving force behind the company's first annual Women in Construction Week panel attended by over 120 industry professionals. The panel consisted of five established construction and real estate industry vets. She served as organizer, emcee and panel moderator helping to drive the conversation forward on building a career in a tough, male-centric industry.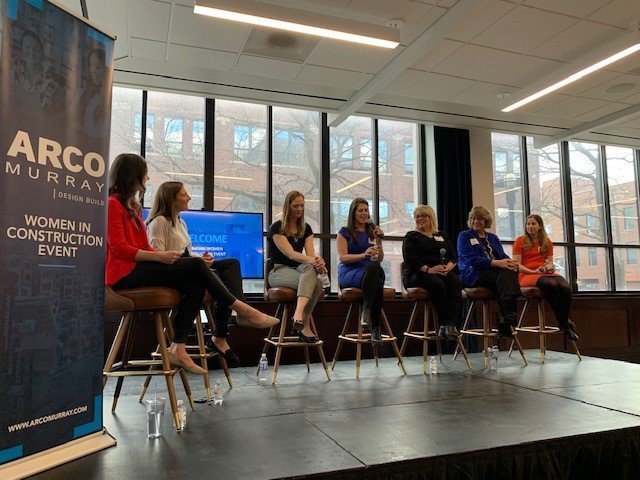 Corie is an active member of the Commercial Real Estate Women (CREW) network, National Association of Women in Construction (NAWIC) and discussed her career growth at the 'Constructing Your Future Women's Forum' in February 2020. She is currently leading a team of 10 women across ARCO offices for the Habitat for Humanity Women's Build in October 2020, which will help provide homeownership opportunities to women in the West Pullman neighborhood of Chicago.
Corie started as a Project Manager for ARCO/Murray in July 2015. She graduated from the University of Wisconsin-Madison with a Bachelor of Science degree in Civil Engineering and grew up in Menomonee Falls, Wis.
"Whether it is helping our team be more operationally efficient, walking clients through the design-build process, or pushing for more women representation in the construction workforce, Corie does it all with such ease and a great sense of humor," said Chris Niedhammer, Principal at ARCO/Murray. He continued, "Corie is definitely a Woman of Influence, and I couldn't be prouder to work alongside her as she takes this industry by storm."
About ARCO/Murray
ARCO/Murray is a single source national design and construction firm specializing in commercial construction and real estate needs for Fortune 500 companies and individual businesses. We believe through the design-build process, our team of engineers, project managers, superintendents, architects, and designers are capable of designing and building the most demanding projects throughout the United States and Canada. At ARCO/Murray, we pride ourselves in offering the best solutions and adding value to every project through 'Better People, Better Planning and Better Execution.' Visit us at arcomurray.com.
###