DHL, a leading provider of international express shipping services, recently introduced its latest hub located at the Hartsfield-Jackson Atlanta International Airport, proclaiming it as their "Most Eco-Friendly Hub in the Americas Region." This hub will serve as a direct connection between 19 different cities in the United States and leading international markets. Spanning 120,000 square feet, the project consists of an $84.5 million industrial renovation focused on a customs shipping and logistics warehouse, accompanied by 20,000 square feet of office space. Construction commenced in 2020 by ARCO/Murray's Tenant Solutions team, revitalizing a previously vacant building that had remained unused by the Atlanta airport for eight years.
The hub's primary function revolves around the seamless processing of importing and exporting DHL cargo and packages. The entire operation includes customs clearance, security procedures and precise sorting protocols. The facility streamlines the transition of packages from aircraft transportation to appropriate ground transportation and vice versa. Atlanta's hub has innovative technology that is capable of efficiently sorting up to 20,000 packages every hour.
The success of this project was made possible through the history of repeat collaboration and experiences between ARCO/Murray and DHL including locations in Chicago, Miami, Manchester and more.
"The construction at Atlanta Hub was done by ARCO/Murray while the warehouse was still in operation due to high demand. COVID-19's presence made it very difficult to share space for cargo, construction, MHE material and people all at same time. Also, the shortage of some supplies created additional challenges, all of which were only able to succeed due to DHL's team working directly with ARCO/Murray, an exceptional general contractor. Led by ARCO/Murray, the construction and design were a certainty of success!
The Atlanta Hub is an exceptional example of sustainability and innovation​, creating value and continuously pursues the carbon-free agenda with the first solar panels inside an airport terminal in the USA.​
DHL is very proud of having ARCO/Murray as a preferred vendor and partner!" – Wagner Moura, Construction Manager, DHL
Here are distinct project elements that transformed DHL's newest hub:
Improved Energy Consumption Through Rooftop Solar Panels
DHL's commitment to sustainability is evident through a significant solar panel initiative costing $1.42 million. This initiative, which has a solar capacity of 526.6 KW, aligns with DHL's base level LEED certification. The hub also features a 2,000 KW generator that provides dedicated backup to 4,000A @480V of power for the entire facility in case of power outages, demonstrating DHL's commitment to smooth operations. DHL achieved LEED certification throughout this process.
DHL's press release from July 7, 2023, states, "The DHL Atlanta hub also sets new standards for sustainability, generating up to 50% of its on-site energy consumption through 65,000 sq. ft of rooftop solar panels, preventing the release of 380 metric tons of CO2 emissions annually. The remaining energy consumed on-site is sourced from renewable sources through Renewable Energy Certificates (RECs), guaranteeing zero emissions from electricity consumption. Moreover, the hub employs environmentally conscious features such as LED lights, electric forklifts, dock seals, and rapid rise doors, further minimizing its environmental impact."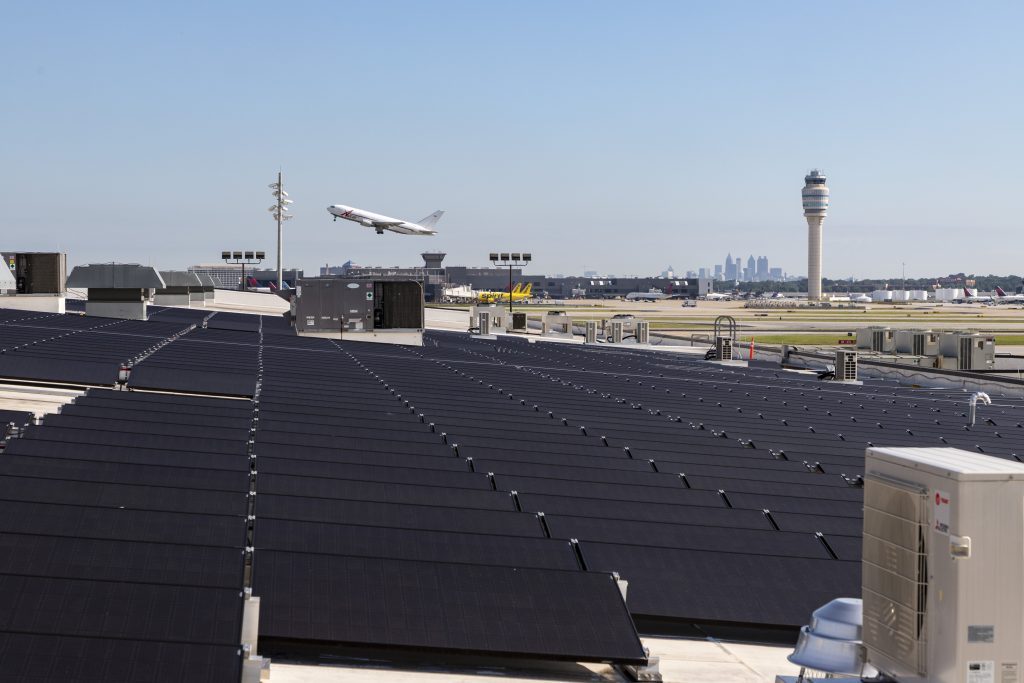 HVAC Updates to Optimize Employee Workplace Benefits
Given the sweltering conditions in Atlanta and surrounding cities, DHL took proactive measures to guarantee the comfort of workers located at the Hartsfield-Jackson Atlanta International Airport. Comfort was achieved by air conditioning the entire warehouse—a remarkable effort that holds importance within logistics sectors due to many companies only providing heating amenities for their workforce.
The conditioning of the warehouse required the installation of 9 rooftop units (RTUs) across both warehouse and office spaces. Due to the building's central location and logistical challenges being on airport grounds, a helicopter was employed to place these units atop the roof. This approach was coordinated by ARCO's project team, ensuring clearance between DHL, Worldwide Flight Services (WFS) and the airport's authorities.
Airport Logistics During Construction
The construction procedures strictly followed airport security protocols, including thorough background verifications for all subcontractors to confirm their authorization to enter the work site. Every individual involved was required to obtain SIDA badges, granting them permission to airport premises. The project obtained distinct authorizations, each mandated by the Hartsfield-Jackson Atlanta International Airport and the City of Atlanta, reinforcing commitment to complying with regulatory standards at both local and airport levels.
Due to DHL's status as an international shipping company, it is necessary for customs facilities to be stationed within their hub. The Customs and Border Protection (CBP) was actively engaged in the planning phase and conducted a comprehensive assessment of ARCO's proposed developments. To streamline design and construction, DHL solidified an agreement to have CBP stationed at their site which accelerated logistic timelines.
---
Questions on any of ARCO/Murray's latest industrial renovation projects across the country? Get in touch today.
Tenant Improvements Contact Us