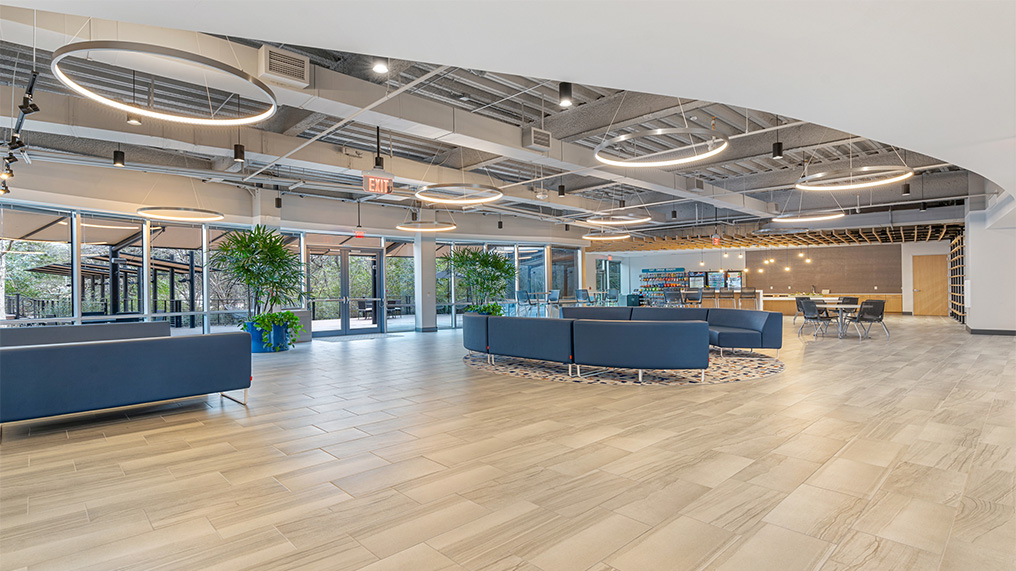 Stanton Road Capital (SRC), a national real estate private equity firm based in LA, recently purchased their newest building asset in Richardson, Texas to add to their 5M SF national portfolio. The first step in the repositioning of the 200,000 SF previously single tenant building was a complete renovation of the first floor including a new entry lobby, fitness center, training room, café, lounge, management office and creek-side patio. After completing a full set of design drawings for the Campbell Glen project, SRC realized the desired improvements were going to be 20% over budget.
SRC brought the ARCO/Murray team on as a partner and design-build consultant to help engineer value and assist with the redesign of the project. ARCO provided breakout pricing by each area and strategically found opportunities to offer cost savings while maintaining the original design intent. Through ARCO/Murray's process of dollarizing all possible decisions, SRC was empowered to confidently allocate money toward the aspects of the project with the greatest return on investment.
The majority of the savings came from revised interior finish scopes, consolidated exterior improvements, and a mechanical and electrical redesign that repurposed more of the existing infrastructure. ARCO/Murray's national buying power was utilized to find comparable and more competitive interior finishes including a new lighting package and exterior decking material. The back patio design was optimized to deliver a cost-effective solution that provides an open-air gathering place for future tenants.
Once all design decisions were made, ARCO committed to the final pricing before the construction documents were completed, giving SRC the confidence to kick off the job. This streamlined process allowed ARCO/Murray to deliver the project in 4 months – ahead of schedule – even with the challenges presented by COVID-19.
Throughout the course of construction, ARCO/Murray was the center point of all decision-making, treating every dollar as if it were their own and working with the architect and client to ensure all decisions were made to not affect the critical path.
"One of the most rewarding aspects of our job is finding unique ways to deliver value," said Trevor Heaney, Director of Business Development for ARCO/Murray. "We're very proud of this project and look forward to working with Cushman and the Stanton Road Capital team on their future endeavors."
See the space here.