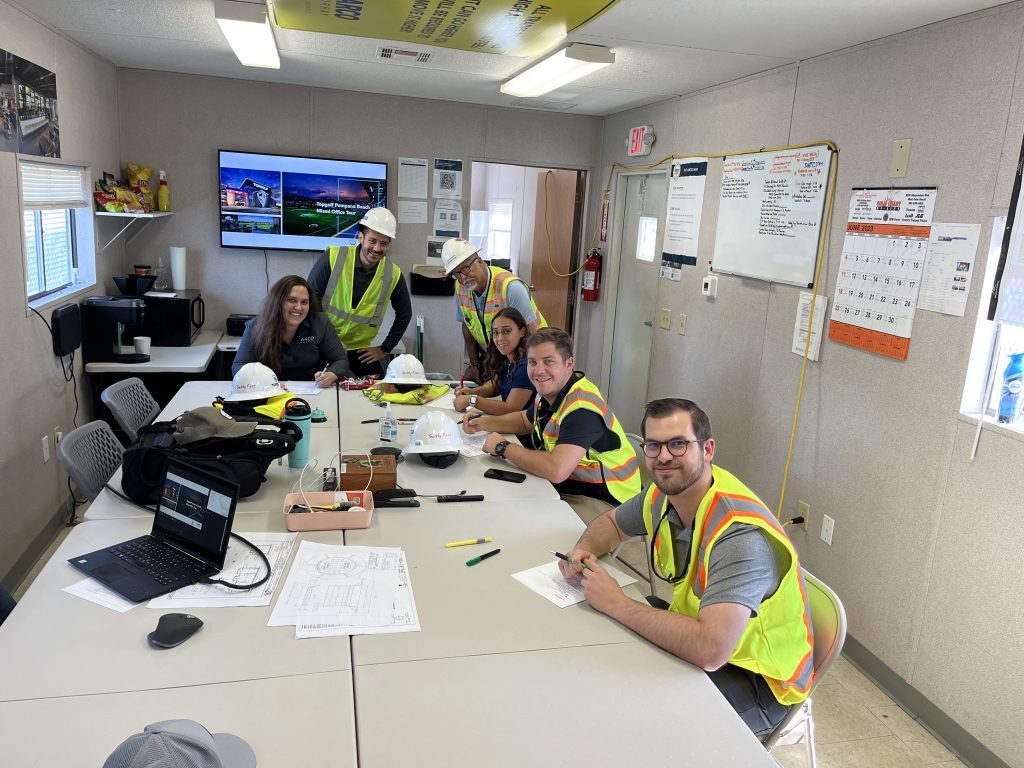 INTERN BLOG BY EDUARDO JUANES – Allow me to introduce myself – My name is Eduardo Juanes and I come from Merida, Yucatan, Mexico. I'm really passionate about construction and making a positive impact on the industry. I have a bachelor's degree from Monterrey Institute of Technology and have worked in construction for five years, which has helped me build my expertise in the field. Currently, I'm pursuing a Master of Science in Sustainable Design and Construction at Stanford University, where I'm excited to learn and contribute to a better and more sustainable future. My main goal is to create top-notch construction experiences and build high performance buildings.
I'm excited to share my internship experience at ARCO/Murray—a company that's all about innovation and excellence in the construction industry. As someone eager to build a strong career in this field, I was immediately drawn to ARCO/Murray's unique design-build approach—a game-changer that revolutionizes project execution. Today, I want to talk about the things that surprised me the most during my internship and how they've changed the way I see construction.
The first thing that immediately caught my attention was ARCO/Murray's tech-driven approach to using technology in construction. They're all about optimizing the construction process and getting the best results using cutting-edge tech. The company culture is also incredible—I am working with high-performing individuals who know how to work hard and enjoy life. The atmosphere is dynamic and motivating, pushing everyone to do their best.
Right from the start, the team at ARCO/Murray made me feel like I belonged. They were friendly and welcoming, which made settling into the internship a breeze. During my internship, I have been able to handle meaningful responsibilities, which is a pleasant surprise. ARCO/Murray has trusted me with important tasks that contribute to project success. One of my biggest surprises is the exceptional mentorship I have received so far. My mentors have guided me through two self-storage projects which has helped me boost my confidence and reinforce my passion for delivering successful projects.
ARCO/Murray's resources are absolutely top-notch, and I must say, ArcoU is an absolute gem for young professionals—it's a real game-changer for learning. This micro-learning platform has been a fantastic opportunity for me to boost my skills and knowledge at my own pace. With just 15 to 30 minutes of learning each day, I've been amazed at how much I've absorbed. It's like pursuing a master's degree while working—a truly incredible experience that will undoubtedly shape the future of construction professionals.
My internship at ARCO/Murray has exceeded my expectations. The things that surprised me the most—the tech-driven approach, the remarkable company culture, the autonomy, and the mentorship—have had a lasting impact on my personal and professional growth. As I move forward in my career, the valuable lessons from my internship will be my guiding light. I'm grateful to the incredible team at ARCO/Murray for this invaluable opportunity. Let's continue to drive excellence and innovation in sustainable design and construction together!
---
Interested in learning more about internship and co-op opportunities offered at ARCO/Murray? Check out our programs page by clicking here.