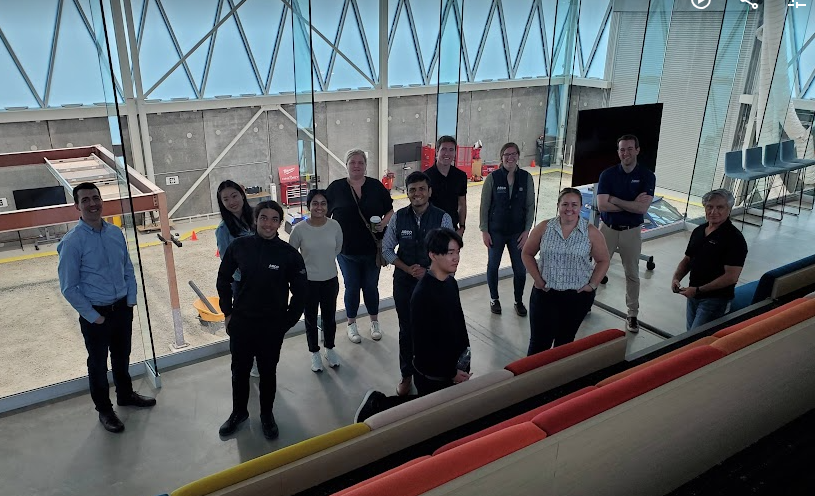 INTERN BLOG BY PING LIANG – Greetings! My name is Ping, a soon-to-be graduate from Northwestern University with a degree in Information Technology. My fascination with technology and its potential to reshape the industrial landscape led me to a fruitful internship with ARCO/Murray's Innovation Team (AMI).
Ever since my early career days, I've had a keen interest in merging theoretical concepts with real-world practices. The opportunity at ARCO/Murray appeared as an open door to experience the fusion of technology and construction in the industry's leading company. Each day presented a new set of challenges, an exciting facet that made my role far from monotonous. The nature of our work at AMI team was dynamic, with every project demanding a different set of skills: problem-solving, data analysis, or software development.
The Technology Innovation Team is a synergy of brilliant minds constantly pushing what's impossible possible with a group less than 10 people. AMI is right in the thick of things when it comes to construction technology, taking the best from outside tech and mixing it up with home-brewed solutions. All this experimenting and improvising is really about one thing: making life easier for our hard-working superintendents on the front lines, the project management teams, and each member at ARCO/Murray.
As someone who came in with no prior knowledge of the construction industry, I was concerned about fitting in. ARCO/Murray's fosters a supportive environment where questions are welcomed, and learning is encouraged. I was pleasantly surprised by the open-door policy and how approachable everyone was, making my transition from academia to a corporate setting smoother than anticipated.
Reflecting on my daily responsibilities, I realize they were not just tasks assigned to an intern but crucial pieces of larger projects. My role was integral to the team's mission, and that sense of belonging and purpose made every day rewarding. The sense of ownership and responsibility vested in me despite being an intern was both humbling and motivating. I was involved in pivotal projects that challenged me to apply my academic knowledge and develop innovative solutions. One such project involved creating a communication platform for cross-function teams, a valuable tool that showcased the profound impact of technology on the construction industry.
To conclude, my internship at ARCO/Murray was more than just a stint at a renowned company. It was an enriching journey filled with growth, learning, and real-world challenges that shaped me as a professional and an individual. I stepped into ARCO/Murray as a tech-savvy student eager to learn, and I'm leaving with a wealth of knowledge, practical experience, and a more refined career trajectory. I eagerly look forward to the future, applying the lessons learned at ARCO/Murray to contribute to the ever-evolving technology field.
---
Interested in learning more about internship and co-op opportunities offered at ARCO/Murray? Check out our programs page by clicking here.