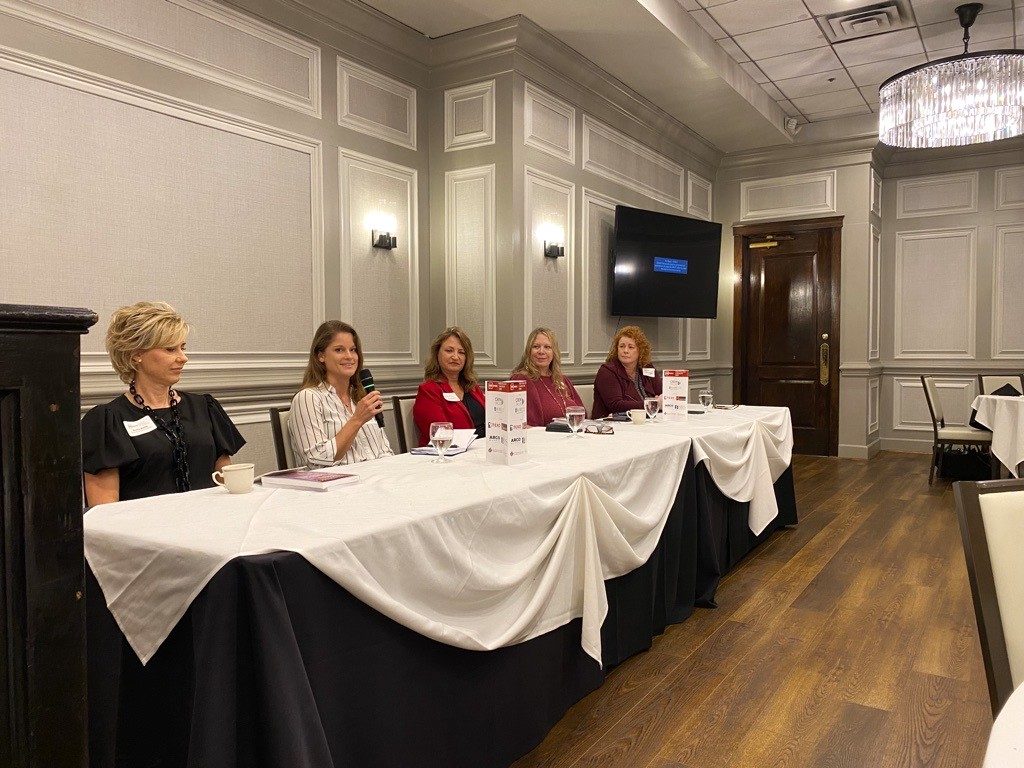 Lauren Ladowski, Vice President at ARCO/Murray, recently spoke at the REDnews 2023 Dallas Fort Worth Women in Real Estate & Construction Summit. Ladowski was a distinguished member of the opening panel, joined by fellow trailblazers in the realm of Women in Real Estate and Construction. The panel's engaging conversation revolved around the exchange of personal narratives, delving into what inspires each panelist as catalysts for change, tracing the evolution of their leadership journeys, and uncovering the strategies and tools that have propelled them towards success.
The following encapsulates the key insights shared by Ladowski during her participation, offering a glimpse into her invaluable experience as a pioneer for women in the construction industry.
---
What you do in your current day to day role?
I've been at ARCO, a Top 3 U.S. design-builder, for about 10 years now. I focus on office, industrial, manufacturing, retail, adaptive reuse, and medical office, just to name a few. I get to wear a lot of hats on a day-to-day basis as leader of our Tenant Solutions team. As a design-build company, we take projects from concept to completion. This means we are involved from the very beginning helping with due diligence and walking spaces with clients all the way through design, construction and occupancy. I get to recruit, hire, train, and implement specific procedures to make sure the team is successful. I get to work on operations, account management, oversight and logistics. It is a lot of fun! I love what I get to do on a day-to-day basis.
What motivated you to become a leader in your industry? What was the most important tool that empowered you?
I lucked into my career. I studied civil engineering in college, and fortunately found ARCO. They allowed me to be a nerd and embrace the technical side of my degree, while also getting the opportunity to run projects. So, I went for it. That said, being a young person in construction, you can't act like you know it all, you can't be a know-it-all. That doesn't go well, especially as a young female in construction, it doesn't work. From the beginning of my career, I just put my head down and worked hard. I tried to learn as much as I could. I pulled in the resources around me who did know more than I did. I was able to acknowledge that I didn't know everything. I have continued to use that as I've grown in my career. I am surrounded by incredibly awesome women who have a lot more experience than I do. Understanding that, embracing it, and continuing to pull in people around me who know more than I do is crucial.
What are the challenges and differences for women as entrepreneurs in commercial real estate and construction?
When I think of challenges, I think of all the little things. Things like finding a pair of construction boots that you feel comfortable wearing on jobsites, or a construction vest that you don't feel like you are swimming in. I think that being the first in a lot of situations can be tough and can make a lot of young women feel as though they don't belong. It is easy to feel out of place in a situation where you don't see a lot of other women. But in my experience, if you focus on being prepared, being as confident as you can, and taking those little wins, it makes all the difference.
It is the little compliments from your team or the acknowledgment that you made the right call in a situation. It is the moments when people back you up in meetings. Trevor Heaney, a fellow principal at ARCO, is standing in the back of the room; he is my business partner, and we've been in multiple meetings where the client will direct a question to him, and he very kindly redirects to me so I can answer. We do this circle until the client understands that I do know what I am talking about. It is the people that back you up and give you those little wins along the way that continue to add up.
Recognizing that there are a lot of women that may be the first and only woman in the room, they might need a little bit more support, and that's okay. I was the only female intern at every company I interned for. I was the first female project manager at ARCO, the first female partner at ARCO. But we have continued to grow those numbers, and I am proud to say we have women in project management and field superintendent roles all across the country now. As we continue to provide more visibility, we will continue to grow that together.
What's a big mistake you made and how did you overcome it?
I have made a lot of mistakes. What I appreciate about our company is that we have a 'Lessons Learned' program. Our culture is very much about bringing those lessons learned to the stakeholders, so we can all learn from them. It's almost like a celebration of things we really messed up to make sure we don't do it again, for ourselves and for the rest of the team. When I think through some of the biggest mistakes, I think it has been a result of putting off tougher conversations. A situation where I thought I could make it better before I had to have a hard conversation. The situation could be internal, but primarily external. We do everything we possibly can to make things go smoother, but people make mistakes; some things are outside of our control. As soon as that little red flag goes up, it needs to be raised to the client. I think the biggest mistakes that I have made were trying to make a situation better before having the conversation, instead of giving a heads up and getting it out there right away.
What is something you wish someone told you early on in your career?
Be yourself. When I first started in this industry, if I was in the middle of a conversation with my husband, and received a phone call from somebody at work, I would drop my voice ten octaves lower. As though I had to be more manly to do my job. I don't do that anymore. I have a normal voice! Just be yourself. Recognize that companies across the country want that diversity, they're looking for it and use the fact that you are different to your advantage.
Help us understand the most useful tools, tricks or methods to best navigate monetary topics in the industry.
I believe that it can be an extended dialogue. I don't think it always needs to be a demand. If you do make it a demand, you're often not going to get the outcome you want. Present what you want, the facts that support it, and maybe even solicit some feedback to get management thinking. It may not be that they don't want to give it to you. In some cases, it might not have crossed their mind before, and they need some time to digest and come around to the conclusion that you had already gotten to. I don't think most people are mean, necessarily, they may just need a little bit of time. To end this positively, I did recently read that the gender pay gap in construction is significantly smaller than it is in other industries. In construction, women make around 95.5% of what men are making in construction compared to 82.9% in other industries. It is improving, and those figures illustrate that progress.
---
Questions about joining the ARCO/Murray team? Get in touch today.
Join Our Team – Contact Us!