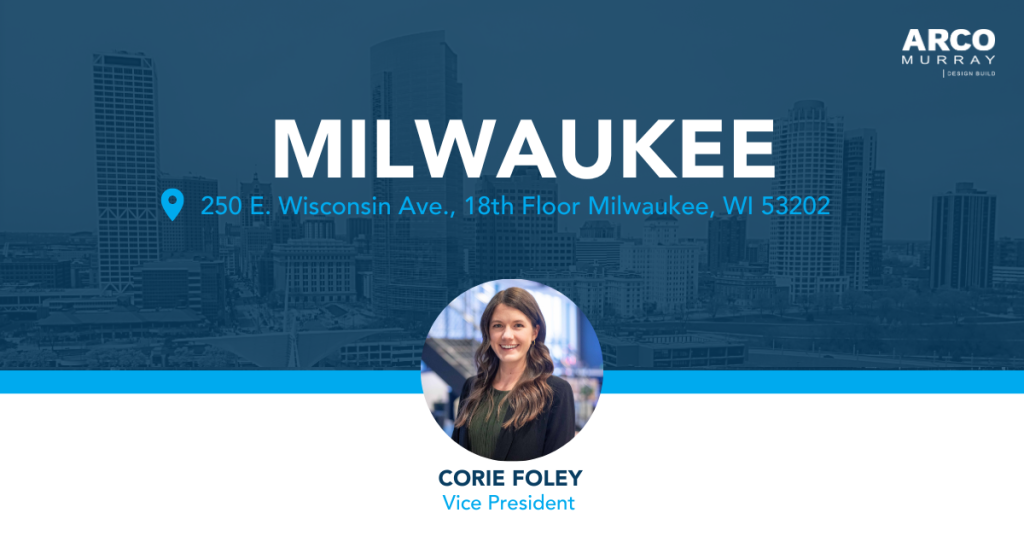 Corie (Spankowski) Foley, a Menomonee Falls native, is headed back to her home state of Wisconsin to lead ARCO/Murray's expansion in the Milwaukee market. She opened the enterprise's 38th office in March 2023 located at 250 E. Wisconsin Ave. Milwaukee, WI. With her promotion to Vice President, Corie will manage business development, hiring, operations and design & construction strategy for local projects. These projects range from industrial and office to adaptive reuse, entertainment, hospitality and cold storage. She was previously a Director of Operations for ARCO/Murray's Tenant Solutions division in Chicago.
During her tenure as Director of Operations, Corie developed a robust onboarding program for new hires that includes a 6-month training platform and assigned mentor. She also created and optimized team policies and procedures for estimating, pre-construction, construction, closeout and field operations. She started her career as an ARCO Project Manager in 2015 after graduating from the University of Wisconsin-Madison with a degree in Civil Engineering.
Corie is the driving force behind ARCO's Annual Women in Construction (WIC) Week events, which has grown from one location in 2019 to four national markets with hundreds of attendees. She has served as an emcee and moderator, as well as helps with planning, promotion and speaker selection. ARCO's 2023 Women in Construction events raised over $27,000 for four nonprofits focused on equity, inclusion, mentorship and driving more opportunities for women in the fields of construction and engineering. She will continue leading WIC events nationally while mentoring and elevating a new wave of up and coming engineers at a local level. 
Corie is an active member of the Commercial Real Estate Women Network (CREW) and Commercial Association of Realtors Wisconsin (CARW). Previously, she was a board member for the National Association of Women in Construction (NAWIC) and active member of the Chicago chapter for Professional Women in Construction (PWC). Corie was named a GlobeSt Woman of Influence in 2020 for her engineering expertise, advocacy, and ongoing dedication to moving the industry forward.
Learn more about ARCO/Murray's footprint in Milwaukee by visiting: https://www.arcomurray.com/milwaukee-design-build/