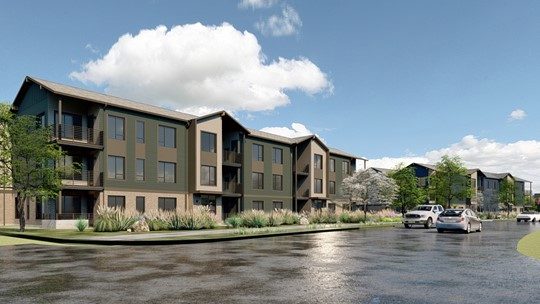 Meridian, Idaho (March 2022) – Real Estate developer & investment firm, Roundhouse, recently broke ground on a new 298,000 SF apartment community in Meridian, Idaho. Roundhouse is partnering with ARCO/Murray, a top 10 national design-build contractor, to construct Dovetail Apartments in the heart of Meridian. The three-story garden-style community will feature 240 units across 10 buildings and include an 8,000 square foot clubhouse.
Located 20 minutes West of Boise, Meridian is Idaho's fastest-growing city and among the fastest-growing cities in the United States. Meridian residents will have their choice of one, two, and three-bedroom units that range from 810 to 1,205 SF. Wooden structures & contemporary agrarian style architecture will give the community distinct architectural character that pays homage to the history of Meridian.
"Roundhouse is thrilled to be partnering with ARCO/Murray on our Dovetail project in Meridian, ID. They are aligned with our vision of elevating the built environment, challenging the status quo, and enhancing the quality of life for our residents. With ARCO's national presence they can serve us in multiple markets throughout the Western US and provide access to a large supply chain network." said Patrick Boel, Roundhouse Vice President, Development.
Dovetail's thoughtful garden-style design places emphasis on the scale, building configuration, and pedestrian experience. Buildings are strategically located on the site to highlight amenity spaces that include a clubhouse, outdoor pool, hot tubs, beach volleyball court, dog park, and a community garden area.
ARCO Murray Project Manager, Kevin Zimont added "We are proud of the genuine partnership we have with both Roundhouse and our trade contractor network that will allow us to deliver highest quality construction to the Meridian community."
About ARCO/Murray
ARCO/Murray is a single source national design and construction firm that specializes in commercial construction and real estate needs for Fortune 500 companies and individual business. From planning to execution, ARCO/Murray's expert team uses the most advanced design-build methodology to deliver the very best client experience. ARCO/Murray focus on understanding their client's business to bring their vision to life through the construction process.
To experience a better way to build, contact us: 331.251.2726 or partnerwitharco@arcomurray.com.