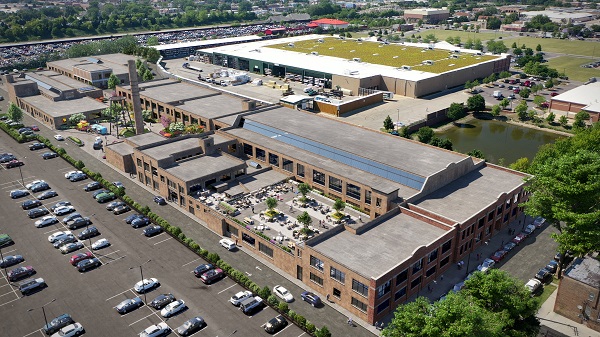 In late 2021, Bisnow hosted the Chicago Creative Office event at The Terminal. As the host site, The Terminal served as inspiration for the future of office and a destination for the next wave of makers, creators and scientific innovators. The campus spans over 6.5 acres with three buildings providing 250,000 SF of horizontal workspace. Starting in 1916, the site was home to Pyle-National company which manufactured railroad headlights, and later, the lights for Chicago's iconic Wrigley Field. Fast forward over 100 years, and now the campus situated at 1334 N. Kostner is one of several adaptive reuse projects underway in the city of Chicago.
The Bisnow event featured an intimate panel discussion on the revitalization of this historic campus with several members of The Terminal team. Take a look:

The Terminal Panelists
Developer: Gary Pachucki, Founder & Principal | IBT Group
Architect: Andrea Caputo, Principal & Chicago Interiors Leader | RATIO Design
Design-Builder: Ross Allen, Principal | ARCO/Murray
Brand Marketing Agency: Ginna Ryan, Principal | Mauge


Q&A on The Terminal

When did the initial vision for The Terminal start and how did it gain momentum?
Gary: It was around 2018 when we first looked at this urban campus in Chicago's Humboldt Park neighborhood. At the time, there were several different tenants on the property storing everything from floor-to-ceiling furniture to cars. It took some imagination to see beyond the current condition. However, the site is rich in Chicago history, architecture and character – an advantage that often appeals to younger, more entrepreneurial organizations.
In late 2019, I started speaking with architects, design-builders, historical advisors, real estate firms and marketing agencies on the overall vision. That's really when 'The Terminal' was born and the project gained momentum. We started working with community groups and the city of Chicago on enhancing that vision while also addressing potential concerns with the site or project.
Finding equity was an uphill battle as well. Luckily, private funding was secured in 2020 through the Joe Mansueto Office. That really became the catalyst for finalizing the architectural design with RATIO and commencing construction with design-builder ARCO/Murray.
The Terminal also became an opportunity site under Mayor Lori E. Lightfoot's INVEST South/West Initiative. We had the mayor and other local officials onsite to cut the ribbon and commence construction in November 2020. Now, as we're underway on phase 1 of construction, we're seeing traction with potential life science tenants.


2. How important was it to have these partnerships in place, especially when there were still a lot of unknowns as it related to overall property condition?
Andrea: From a design standpoint, it was a very innovative and fluid process. We started by going building to building and looking at the different additions put in over time. We spoke with the city of Chicago for two to three months to understand fire codes and what we could design and where. The hard part was you could only access some of the areas. We had to put our best guess forward.
It helped Gary had a clear vision and intention for this space. We all also understood the flexibility needed in the design and construction of The Terminal. Upfront, we focused on functionality that would appeal to future tenants and how to modernize the space while appropriately replicating and/or preserving historical elements. As the site cleared and conditions were better understood, we worked with ARCO and MacRostie Historical Advisors on how to cost-effectively tweak some of the design. The Terminal is currently in the process of becoming a historic landmark, so everything we design must go through extensive review. We're very well-educated on what we can and can't do because we don't want to promise a tenant something we can't deliver.
Ross: Like Gary and Andrea mentioned, there were areas where you couldn't even see the skylights or floors. Then, factor in historical elements you have to replicate – like windows – and how that plays into the design, lead times and construction schedule. It was vitally important for all of us to be on the same page. Andrea really set the architectural vision for the space, and then we leaned on our in-house engineering team and large portfolio of adaptive reuse experience to come up with a construction budget and multi-phase schedule.
Ginna: At Mauge, it's our job to take the overall vision and create a brand around The Terminal. We needed buy-in from everyone involved in the project to ensure brand continuity between the physical building and what we're communicating to the public and potential tenants. The fact that Gary assembled everything from construction and architecture to marketing and real estate day-one made a huge difference in the outcome of this project thus far. We all meet weekly to maintain open lines of communication.


3. What does the due diligence process look like when evaluating a project like this and its viability when you couldn't even see some of the things needed to craft an appropriate budget and design?
Ross: When coming into an expansive adaptive reuse project like this, you know right off the bat the roof, windows, mechanical, electrical and plumbing all likely need to be updated. You also need to identify the areas that need the most significant repair. In a case like The Terminal, where there's restrictive access, the best way to do that is to look for water infiltration from the ceiling, windows or warped floors. Then focus on the bones of the space. We had a lift and structural engineer out here for weeks at a time. All of these elements were crucial for generating the most accurate cost projection.


4. How do you align tenant needs with the proposed building features and design, especially when focusing on a market segment like life sciences?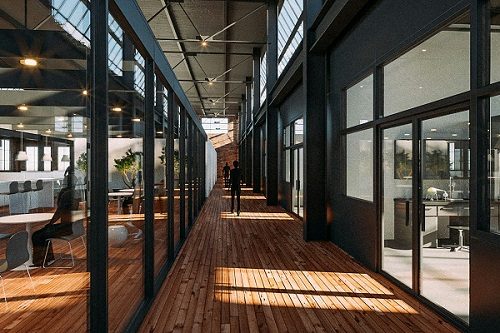 Gary: It comes down to understanding and researching the market – knowing the key players, what kind of projects they're seeking and their priorities when leasing a space. The Terminal consists of three buildings, so there's a lot of flexibility for one larger tenant or several smaller tenants to take the space. Life science tenants tend to have smaller staff, but very specific needs to accomplish their objectives. The Terminal can give these groups a runway for what's ahead, so they can grow while staying in one place.
Andrea: We started test fitting for companies moving into the sciences. One of the concepts we came up with is an incubator lab space. Each bay in the main building could be an individual lab space that would be personalized to the tenant. In the center, there's coworking space and meeting rooms for office needs. It would offer greater flexibility in a collaborative environment. The hope is then to eventually move into your own dedicated space within The Terminal campus. In the end though, it's all about flexibility.



5. COVID has impacted everything from the supply chain and material costs to the way you're designing and delivering an office space. Have you seen this impact directly on The Terminal project?
Ross: This goes back to the importance of having everyone on the same page upfront. By doing so, we were able to phase the project and start procuring before a permit was in hand. That fortunately shielded us from rising costs in the marketplace during the first two phases. As the project progresses, and tenants lease space, we'll continue to keep open lines of communication on lead times. On a broad scale, we've tapped into our national network and use an integrated design-build approach to find readily available materials that fit design intent. Gary: We really haven't had to change course while revitalizing The Terminal. The space has all the amenities tenants are putting more emphasis on post-COVID. There will be lush outdoor space and walkways that you can't get closer to Loop. Large, open windows adorn the main space for natural lighting and unprecedented views. There will be open, collaborative areas and opportunities for breweries or cafés to secure space. The Terminal is situated in the heart of a diverse neighborhood rich in culture and there are incredible historical elements in the building that can't be replicated elsewhere. Tenants can even have their own separate entrances for greater security and individual HVAC to accommodate extra ventilation needs.

---

Learn more about The Terminal or ARCO/Murray's extensive adaptive reuse experience.
Tenant Improvements Contact Us