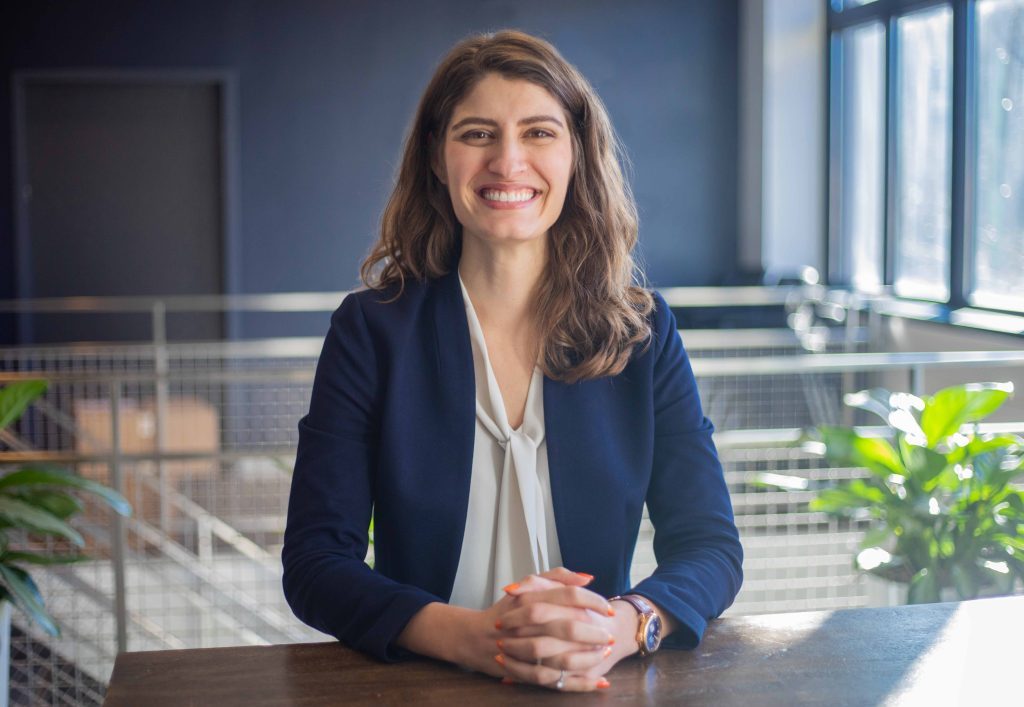 We are thrilled to share that Tiffany Barker was recognized as an honoree for Crain's Chicago Business Notable Women in STEM! The individuals featured in this year's selection are being celebrated for their outstanding achievements within their respective companies, industries and communities.
ARCO/Murray extends our heartfelt congratulations to Tiffany for this well-deserved recognition. Her accomplishments are truly remarkable!
The marketing team sat down with Tiffany to talk through what it means to be a Notable Woman in STEM and how Tiffany is using her platform to encourage other women to continue advocating for themselves.
About Tiffany Barker
Tiffany Barker, PE, PMP, is a Project Manager at ARCO/Murray, specializing in industrial tenant improvements for large corporate clients. With a design/build approach, Barker handles pricing, proposals, subcontractor buyouts, design management and construction oversight. Her unique expertise in MEP design and technical engineering allows her to gain a deeper understanding of each client's business. Tiffany focuses on understanding the technical requirements of multisite corporate clients, ensuring account standardization and effective design management. She does this by immersing herself in the operations, understanding the client's requirements and offers a tailored solution to their problems. She asks precise questions to clarify client needs and creates outlined specifications, facilitating clear communication within her team. Tiffany's unique background repositioned her current role to assist other Project Managers to ensure a comprehensive understanding of client needs prior to construction.
Congratulations on being a Notable Woman in STEM award recipient for Crain's Chicago Business! Can you describe what a Notable Women in STEM means to you? How do you think that you embody the role?
The concept of being a Notable Women in STEM goes across a wide range of fields and skills. I would first like to acknowledge how ARCO integrates STEM into the construction industry. It goes beyond the traditional technical aspects and extends to engineering and project management. After all, we are solving our client's problems through STEM. Thank you, ARCO, for giving me the opportunity to grow my career in ways I never imagined.
As for the technicalities of how I embody the role, a portion of that involves maintaining my certifications, such as my professional engineer license through ongoing education. I also actively stay involved in the industry, study evolving trends and continuously find ways to expand my network with STEM professionals. If someone expresses an interest in a particular design field that I might not be directly involved in, having a network enables me to connect them with someone who is. I also am involved in initiatives like the Habitat for Humanity Women's Build and mentor youth in Chicagoland through iMentor.
I am extremely thankful to be named a Notable Woman in STEM, however, there are so many exceptional women who also deserve this recognition. This new title I hold will serve as a platform to help empower other women. Supporting and empowering women is the key for success within STEM industries. A Notable Woman in STEM would use her platform to amplify the accomplishments of fellow women – and that's what I hope to do. I'm going to continue bringing women alongside my journey, encourage young girls to pursue STEM and show all the possibilities there are within science, technology, engineering and math. You truly can do whatever you set your mind to.
How did you advocate for yourself early on in your career? How do you continue to advocate for yourself now?
Early on in my career, I found myself quite fortunate. During my time with Environmental Systems Design (ESD), I was lucky enough to be surrounded by a group of strong women in a predominately male company. These women were true rock stars in their abilities. But what set them apart was their dedication. They were a few years ahead of me in experience, so I was able to gain invaluable insights from observing how they continuously advocated for themselves. Their influence taught me the significance of being my own advocate. After all, who else could better communicate my abilities? I owe it to this group of women for helping me get to where I am today.
My time at ARCO mirrors a similar theme. When I began my ARCO career in 2022, I was introduced to Corie Foley – a female on the leadership team within Tenant Solutions. It was super empowering to be introduced to Corie when I first started, ultimately setting the tone for how ARCO views women in STEM. Additionally, there is an ARCO/Murray group specific for female Project Managers and Superintendents. We meet monthly to celebrate each other's achievements and foster an inclusive environment. This group ties into how I advocate for myself now. I'm able to pass on lessons learned and help others navigate their careers. Through this, I've picked up on different strategies for how to continue advocating for myself and the women I work alongside with.
What do you find most fulfilling about your role?
What I find most fulfilling is getting to touch a multitude of projects that are all for the same client. Being involved in every project for a specific client allows me to positively impact the quality of the end result. Getting to see the evolution of ten different projects, each with unique design iterations due to working in pre-existing buildings, is what makes my job so much fun. All in all, it's the technical nature of controlling the quality across multiple projects and building a deeper connection with the client during the process.
What advice would you give to young women in STEM education?
Don't let the disparity of the number of women going into the field discourage you. Instead, use that as fuel to motivate you – both personally and professionally. It's a unique challenge to conquer in STEM fields that women may not notice right off the bat. Or at least I didn't. It took about 3 years into my career to really notice how different it was.
My advice is to use this awareness as a driving force to succeed in your career. Always believe in your capabilities and continuously seek out ways to grow your career. Reach out to other women who have experience in the field. Seeing the path other women have paved will make success feel attainable. Female representation is so vital in the industry.
Closing Remarks from Tiffany Barker
It is so exciting to be named a Notable Woman in STEM. I hope that one day there isn't this discrepancy between men and women that there is today, where "Notable Women in STEM" must be a separate category. The only way we can accomplish this is by continuously encouraging young women and girls that they can have a career in STEM and continue the representation. A challenge we will have to overcome is keeping women in the workforce. It's awesome to witness ARCO implementing new initiatives to support women in sustaining their careers. This aligns perfectly with the larger goal of fostering an inclusive environment where women are valued and supported.