San Mateo, California (September 8, 2022) — ARCO/Murray is being recognized as a winner of the Best and Brightest San Francisco Bay Area competition by the National Association for Business Resources (NABR).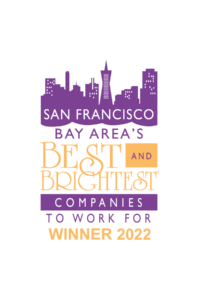 2022 is the fourth consecutive year that ARCO/Murray has won the award. Winning companies are assessed by an independent research firm, which reviews several key measures relative to other nationally recognized winners.
Companies that apply are scored on the following categories: Compensation, Benefits and Employee Solutions; Employee Enrichment, Engagement and Retention; Employee Education and Development; Recruitment, Selection, and Orientation; Employee Achievement and Recognition; Communication and Shared Vision; Diversity and Inclusion; Work-Life Balance; Community Initiatives; and Strategic Company Performance.
"We've created an environment that challenges our employees while simultaneously providing them with the resources, mentorship, training, recognition, and incentives to succeed," says Colin Epperson, ARCO/Murray Principal. "The people at ARCO get to own their projects, see them through to completion, and achieve success with other like-minded folks."
ARCO/Murray continues to be recognized in the Bay Area for its positive culture, compensation, and benefits. To learn more, visit the ARCO/Murray website.
About ARCO/Murray
ARCO/Murray is a single source national design and construction firm specializing in commercial construction and real estate needs for Fortune 500 companies and individual businesses. We believe through the design-build process, our team of engineers, project managers, superintendents, architects, and designers are capable of designing and building the most demanding projects throughout the United States and Canada. At ARCO/Murray, we pride ourselves in offering the best solutions and adding value to every project through 'Better People, Better Planning and Better Execution.'
About the Best and Brightest Programs
The Best and Brightest Companies to Work For® competition identifies and honors organizations that display a commitment to excellence in operations and employee enrichment that lead to increased productivity and financial performance. This competition scores potential winners based on regional data of company performance and a set standard across the nation. This program celebrates those companies that are making better business, creating richer lives and building a stronger community as a whole. There are numerous regional celebrations throughout the country, including Atlanta, Boston, Chicago, Dallas, Detroit, Grand Rapids, Houston, Milwaukee, San Diego, San Francisco, Miami, New York, Charlotte, Denver, Pacific Northwest, Nashville, and Nationally. Nominations are now being accepted for all programs. Visit thebestandbrightest.com to nominate your organization.