Summary
Spanning 10 acres and 152,300 square feet, the North Austin Center stands as a unique indoor and outdoor facility that revitalized a once-vacant area in Chicago, providing a hub for sports, education, wellness and community engagement while fostering a strong and inclusive foundation for local families.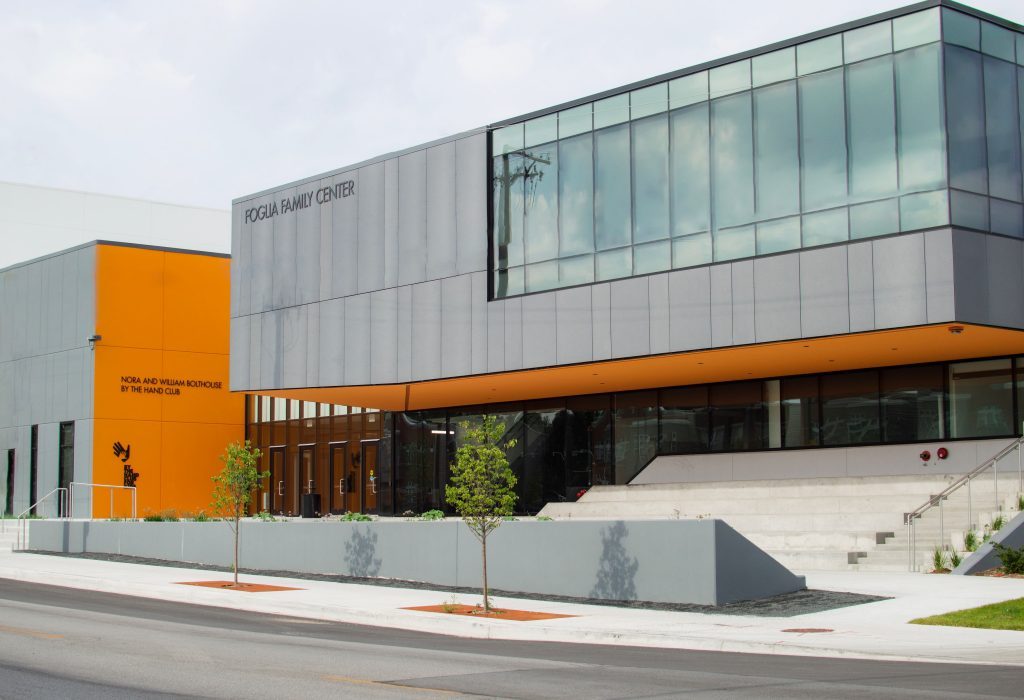 On February 2, 2023, a significant milestone unfolded as the North Austin neighborhood witnessed the longest ribbon-cutting ceremony ever held in the City of Chicago. The special occasion brought together community members and esteemed local and state officials, marking the opening of the North Austin Center (NAC). The project's success was made possible through the collaborative efforts of lead partners: ARCO/Murray, GMA Construction Group, By The Hand Club For Kids, Intentional Sports and Grace + Peace Revive Center, as well as premier sponsors: Chicago Fire FC and the Jason Heyward Baseball Academy.
At its core, the North Austin Center (NAC) represents a remarkable $35 million endeavor, recognized as a first-of-its-kind, top-tier indoor and outdoor complex dedicated to sports, education and wellness. Spanning an impressive 10-acre area and 152,300 square feet, this project brought new life to a previously vacant piece of land on North Laramie Avenue.
The North Austin Center has now become a beacon of hope and opportunity for local families, providing them with unparalleled access to team sports, education, enrichment and essential wraparound services. By establishing inclusive amenities, the center actively contributes to building the foundation of a healthy and secure community.
Right from the inception of the North Austin Center, a shared commitment emerged among all project partners – to actively involve the community in every step of its creation. Recognizing the significance of community engagement, the project's foundation was laid upon the principles of inclusivity and collaboration.
COMMUNITY INVOLVEMENT BEFORE AND AFTER CONSTRUCTION OF THE NORTH AUSTIN CENTER
Prior to the commencement of construction on August 11, 2021, ARCO/Murray's project team made a collective effort to prioritize local minority subcontractors and owners when awarding project work. This commitment to the community's welfare resulted in the creation of more than 200 temporary jobs, further contributing to the North Austin Center's community involvement.
Following the ribbon-cutting ceremony, the North Austin Center gradually opened its doors to the public in phases, targeting full capacity in Fall 2023. The one-of-its-kind facility is projected to serve more than 25,000 individuals annually, with the addition of attracting 250,000 guests to North Austin each year.
According to a recent credit card study conducted over the course of the past 4 months, it has been observed that community guests have significantly increased their spending, thereby providing a substantial boost to the local economy. The facility has since created 40 full-time and part-time jobs for local community members, with an estimate of 105+ permanent jobs created once the facility is at full capacity. Furthermore, during its inaugural summer, the North Austin Center successfully catered to more than 300 children through summer programming.
About 25% of community members in a 1-mile radius of the facility have an annual income of $25,000, with 49% of these families having children in poverty. The North Austin Center remains dedicated to finding ways to open doors for these families, providing them with previously unattainable possibilities for growth and advancement. Partners and sponsors of the facility have collaborated closely to introduce innovative programming and services, bringing forth transformative offerings never experienced before in the community.
MORE ABOUT NORTH AUSTIN CENTER'S LEAD PARTNERS
BY THE HAND CLUB FOR KIDS
By The Hand, a no-cost after-school program serving 1,700 children throughout Chicago, commenced its services in North Austin with 400 students from kindergarten through 12th grade in April of 2023. The program collaborates with Chicago Public Schools, offering literacy intervention, enrichment activities, college and career support, counseling services, vision and dental care, daily hot meals and transportation.
GRACE + PEACE REVIVE CENTER
Grace + Peace Revive Center, an urban congregation focused on uniting Northwest Chicago, expanded their essential wraparound services for the North Austin Center, including education, health awareness and advocacy, food banks, domestic violence counseling, transitional housing and advocacy workshops.
INTENTIONAL SPORTS
Intentional Sports, a Chicago-based nonprofit, anchors the campus with athletic programming designed to bridge opportunity and access gaps in youth sports. Partnering with other nonprofits and athletes, they provide youth and adult sports academies, drop-in hours, year-round competitive athletic training, leadership development, and health and wellness services across 120,000 square feet of indoor space.
THE CHICAGO FIRE FOUNDATION & THE JASON HEYWARD BASEBALL ACADEMY
In addition to these three initiatives, the Chicago Fire Foundation and Jason Heyward Baseball Academy established a permanent home for thousands of Chicago's youths, offering them opportunities to remain physically active and fostering a safe and nurturing environment.
Watch the North Austin Center come to life over the past two and a half years:
---
Questions on any of ARCO/Murray's latest projects across the country? Get in touch today.
Tenant Improvements Contact Us