You may have heard the term coliving, a buzzword thrown around in urban real estate, but what exactly is it?
Coliving is best described as a modern form of housing that aims to offer affordable housing and a sense of community to young professionals, digital nomads, students, or anyone interested in a different approach to apartment life. Most popular in large cities with escalating rents, coliving provides tenants individual living spaces, access to luxurious amenities, flexibility, community, and most importantly affordability. These pillars of coliving are accomplished through tenants signing leases on a per bed basis. For example, in a 4-bedroom 4-bathroom unit, each tenant may sign a lease for their individual bed and bath while sharing the common space with the other 3 tenants.
What does this mean for a developer? When compared to traditional multifamily housing, coliving communities aim for a higher bed density as opposed to living area per unit, as there is typically a greater emphasis on community common space. Properly designed coliving buildings maximize both the potential rental revenue and minimize construction costs compared to a traditional multifamily construction.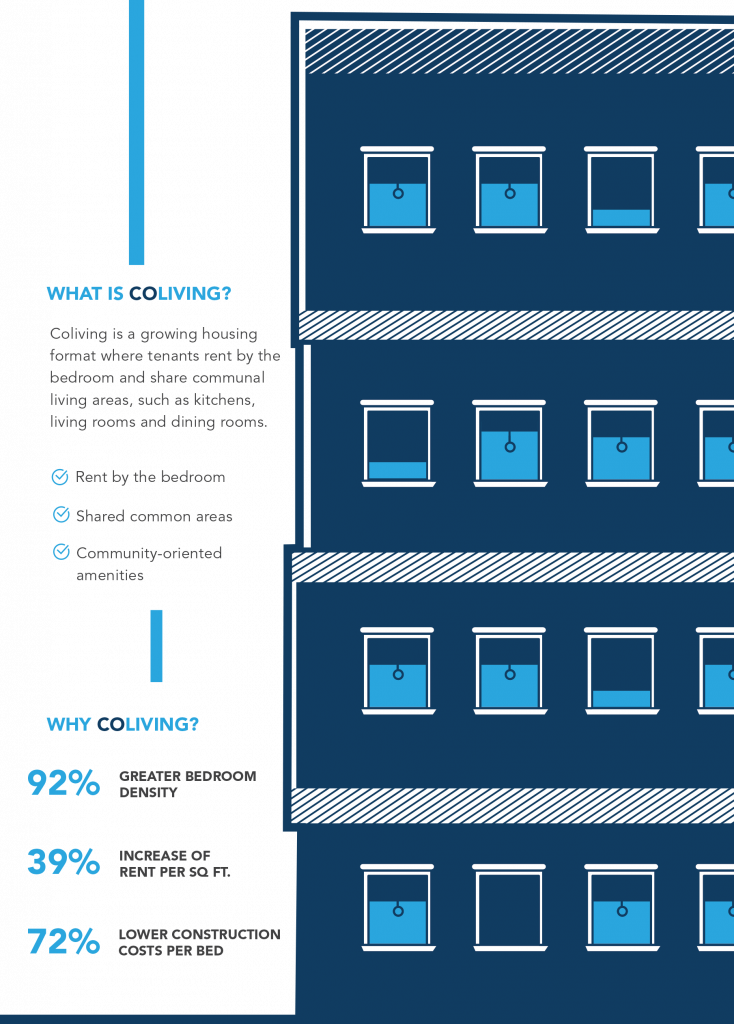 Whether you're a growing company looking to invest in the sharing economy of coliving or an experienced traditional multifamily developer considering new product types, understanding the design and construction nuances of coliving is paramount. Selecting the right partners to guide you from site selection to building occupancy is essential for minimizing risk and eliminating potential gaps, but where do you begin? With 6.6M SF of multifamily development and over 2,000 coliving beds in design or under construction, at ARCO/Murray we have the experience and expertise to bring your next coliving project to life.
Looking for the right partner? Experience a better way to build, contact us: partnerwitharco@arcomurray.com