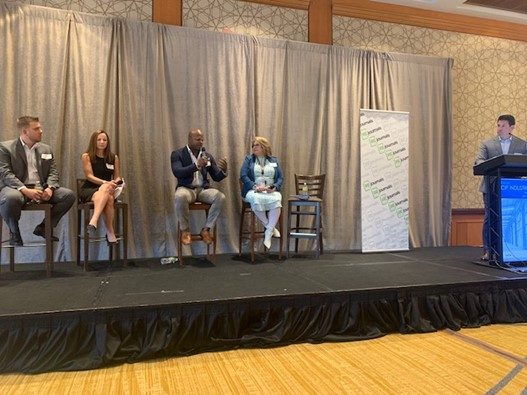 In late April 2022, ARCO/Murray's Patrick Clay, Director of Business Development, participated in the 19th Annual RE Journals Chicago Industrial Summit. He was joined on-stage by (right to left) Andrew Maletich of Cawley Chicago, Alba Colavitti of CRG, Melissa Roman of Prologis and Chris Moore of FCL Builders. The panel discussed everything from construction challenges to industrial development in today's marketplace. Here are just a few key takeaways from the event.
What cost increases are you seeing for industrial building?
Last year the story centered on skilled labor, or the lack thereof, in markets where industrial is booming. That trend will continue, along with rising material costs and long lead times. There's been a $4 per square foot increase in the Arizona market, and in markets like Chicago, it can be upwards of $6 per square foot. We're seeing significant delays for both steel and precast. Some developments have roofing spanning across four quarters with cost escalations upwards of 15%. There's no single culprit either. Raw materials, driver shortages, overcrowded ports, and other national and international disruptions are just some of the factors contributing to unprecedented cost escalations. Depending on where an industrial development is located regionally will also determine the severity of both cost escalations and schedule delays. Is there a metropolitan city nearby? Are there workers available? How far will you need to ship materials? Will that result in additional fuel surcharges?
How are developers responding to these cost increases?
It comes down to economics and pain versus reward. For some developers, paying a premium for materials makes sense, and they are still above water because of the land value. Developers are leaning on construction methodologies like design-build, where design and procurement occurs earlier in the process. This helps minimize continual cost escalations and gives developers a better idea of total project cost upfront.
Will there be an eventual slow down with industrial building?
The labor story ties back in here. We lost a large portion of potential tradespeople during the economic recession that began in 2008 and never fully recovered. Eventually, there will be a slow down as labor and materials continue to create a bottleneck. We thought rising federal interest rates would help expedite that slow down, but foreign and domestic capital are still entering the market wanting to execute 500+ acre speculative warehouses. Industrial will remain a strong asset class for the foreseeable future.
How is the industrial market evolving, particularly when you compare it to office?
Emergence of multi-tenant warehousing: On the surface, it looks like office and industrial are two completely different asset classes. They are, but some of what we've seen on the office side has been carried into industrial with emerging sub-sectors like co-warehousing. These spaces offer e-commerce companies greater flexibility in various markets and combine executives and field workers in one location. This can be everything from 2-4 tenants into a building to co-warehousing companies like Saltbox that offer flexible solutions for dozens of smaller e-commerce companies in one location.
Growth outside central business districts: Only 4% of the U.S. is industrialized. As vacancy continues to decrease, and leasing activity surges along with the cost of land, developers are racing to secure sites pushing boundaries further and further out. You're also seeing more conversions of old big box retail and other existing buildings into manufacturing and last-mile facilities. Developers are being forced to get creative with brokers and design-builders given the high demand and low inventory in central business districts.
Going vertical: Like office did in land-locked central business districts, industrial is starting to go vertical. It depends on the economics of the deal, but there could be a future where there are more two and three-story warehouses and offices tied together with multiple tenants. Another creative solution being discussed is mixed use or combining manufacturing and distribution centers or even residential and industrial.As we try to bring more manufacturing back to the states, multi-story industrial buildings could very well be that next evolution.
Reverse logistics facilities: It's not just keeping up with shipping demands, but also how to handle inventory that's being returned. E-commerce was growing well before COVID-19, but the pandemic did push more online consumer shopping. According to the United Nations, in 2021, consumers spent $870 billion online with U.S. merchants, up 14% from the year prior. Global e-commerce jumped to nearly $27 trillion. Shopping habits have changed, marking an increased need for space dedicated solely to product returns.
Are you seeing a greater emphasis on green building?
ARCO's in-house Solar division has had an influx of activity from the industrial market, as more developers and end users are requesting solar arrays or farming on top of buildings. Other industrial green initiatives include getting creative with EV charging stations (especially for last-mile delivery vans), HVAC distribution, smart technology for better building management as well as LED and pathogen-fighting lights. We have a large international manufacturing client building a 215-acre campus that is focused on both sustainability and feng shui – which greatly impacts everything from the design to the direction the building faces.
Reducing carbon footprint is another highly-discussed green initiative. Carbon comes from the cement-making process. The less cement in concrete…the greener the concrete. Therefore, we're looking at ways to build thinner pavement sections and fiber reinforced slabs. All of that is relative though when you factor in current material shortages, especially precast.
_______________
Have more questions for Patrick or our team of experienced design-builders? ARCO is the #1 builder of warehouses and distribution facilities in the U.S. (ENR) with an extensive national portfolio. We'd be happy to discuss questions, needs or send you our latest Chicagoland industrial unit cost sheet. Get in touch today.
Tenant Improvements Contact Us