Bridge Industrial has been making a tremendous impact in the Chicagoland area since opening its office in 2000 with roughly 2.9M SF of new inventory under construction between two speculative industrial developments — Bridge Point McCook and Bridge Point Melrose Park. As the industrial asset class concurrently faces some of the most significant tenant demand and low inventory it has ever seen, Bridge has sought to bring more warehouse and distribution facilities to expansive land areas in the region that have proximity to large population centers, as well as highly desired accessibility to Chicago O'Hare and Midway International Airports. With each of these ongoing developments requiring significant demolition, redevelopment, and backfill work, Bridge has partnered with ARCO/Murray to design and build the industrial parks in the Villages of McCook and Melrose Park.
Bridge broke ground on the two-building Bridge Point McCook project in February of 2022. Once vertical construction begins, that's when the real local impact will hit. "There could be as many as 400 workers on the job site here in McCook," said Mayor of the Village of McCook Terrance M. Carr.
Mayor of the Village of Melrose Park Illinois Ronald M. Serpico shared in the excitement for his community. "When you have jobs, then there's the collateral benefit," Mayor Serpico said, "a collateral benefit that you can't even quantify."
Construction on Bridge Point Melrose Park, the former historical site of a B-24 Liberator airplane engine manufacturer, commenced in January 2022. Starting as a three-building speculative industrial development, the site requires extensive demolition and backfill, which is estimated to take approximately one year leading up to vertical construction of the building shell. In the current, low-inventory industrial market, the 80-acre land site has quickly gained the interest of qualified prospective tenants. In light of this, two of the three buildings were fully pre-leased before demolition was completed, turning the once fully speculative industrial development into a majority build-to-suit site for future tenants CEVA Logistics (represented by CBRE) and Expeditors (represented by Fischer).
"ARCO has been a great partner for Bridge, especially as we look to execute on larger, more complex projects that only a highly reputable contracting firm could be entrusted to manage," said Jon Pozerycki, Chicago Region Partner at Bridge Industrial.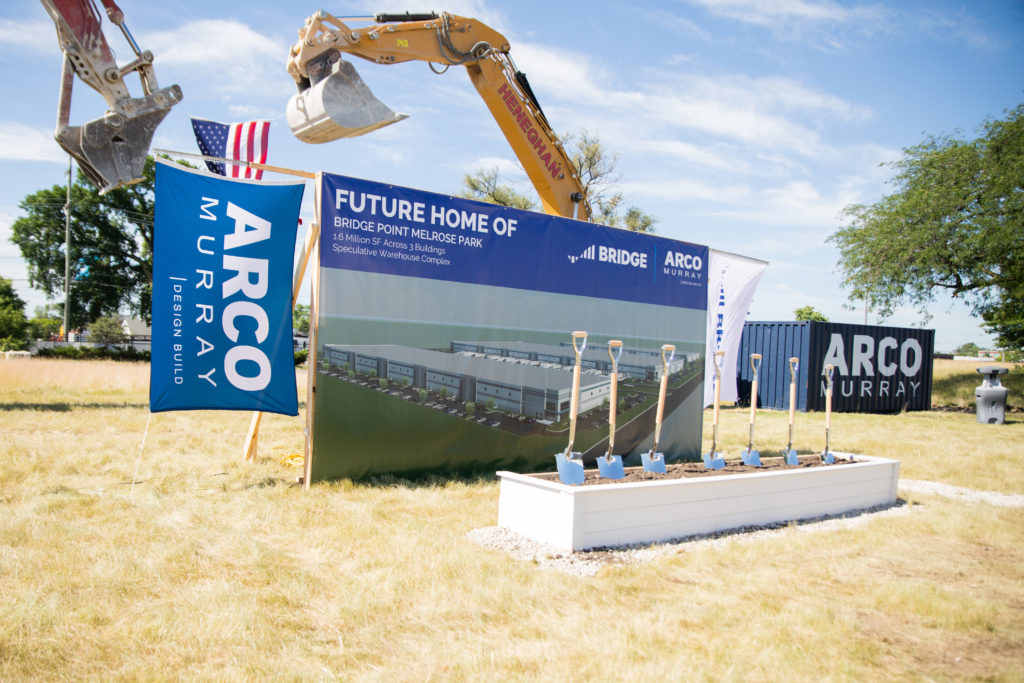 ARCO's in-house design and construction teams were able to quickly adjust the project scope and schedule to reflect the needs of the future tenants and have dedicated Industrial and Tenant Solutions Project Managers to oversee the construction from demolition to tenant occupancy.
The Chicago-based Industrial team for ARCO/Murray expects Bridge Point McCook to be pad-ready by the end of the year, and precast erection of Bridge Point Melrose Park will begin around the same time. The five buildings that span these two developments are all expected to be completed between Q4 of 2023 and Q1 of 2024. Additionally, the ARCO/Murray Tenant Solutions team will manage the construction of the interior tenant improvements for CEVA and Expeditors once the shell buildings are complete.
"What makes Bridge such a good partner is their ability to navigate complex entitlements and environmental cleanup. More than that, I think they're a group that understands the value of partnership, and I think they've chosen really strong design and contracting partners to assist in the completion of these difficult projects – which take a village to make a reality," said ARCO/Murray Principal Joe Rook.
As these two large developments have garnered quite a bit of attention in the Chicagoland area, Bridge Industrial has also commenced construction on two additional developments with ARCO/Murray – Bridge Point Romeoville and Bridge Point Elk Grove Village. ARCO is grateful for the partnership with Bridge and looks forward to seeing each development through to successful completion.
For more information on how a design-build general contractor can help you with your next development, contact us below.