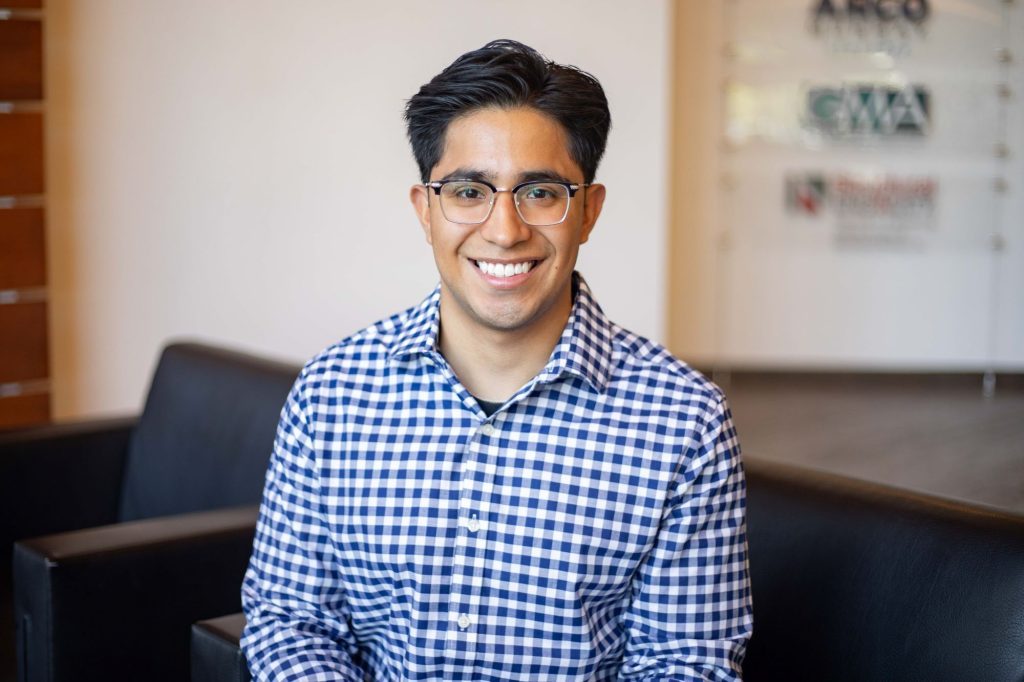 INTERN BLOG BY ALFONSO ROMERO – I am a recent graduate student from the University of Illinois at Urbana-Champaign, with a bachelor's degree in Architecture. I am also an intern for AME Engineering as a steel detailer. I enjoy being active outdoors, weightlifting, and just being busy overall!
During my time working at ARCO as a summer intern, I have gained new knowledge and experiences that are beyond measure. I had the opportunity to work with amazing and diligent people, who strive to succeed. Listed below are some, but not all, skills/lessons that I learned.
Don't Be Afraid to Ask for Help
I am a very determined person, which means I'll put time and effort into any task given to me. Throughout my internship, I learned that the best way to become efficient is by asking questions. In order to do the job correctly, I had to ask questions quite frequently. Nobody expects you to know what you are doing, and odds are, other interns don't know either. The purpose of an internship is to learn; therefore, you are expected to ask. The more questions, the better. This shows that you are engaged, and interested in what you are doing.
Network With Your Coworkers
As obvious as it sounds, everyone in the office is human. They have lives and families outside of work. A great way to communicate as an intern is by starting a conversation. Learn who these people are, what their position is, what they like to do, or even eat lunch with them. By making the effort to communicate with them, it'll show that you are eager to be involved with the company and people. You'll learn a lot of new things about people, and possibly start a network that'll help you in the future. Become part of the office culture, get involved in activities, learn about what they do outside of work. It never hurts to make friends at work and create new relationships.
Keep Your Mentor Updated Frequently
As an intern, it is your job to show your mentor your work, keeping them updated on the status of the objective. If you feel overwhelmed with multiple tasks, let them know. The point of the internship isn't to stress you out and dump all the workload on you, but rather experience a glimpse of what they do and help where possible. I learned that it is O.K. that a task may be finished later than you anticipated. Everyone learns at different paces and mentors know it best, as they were once in that situation before. ALWAYS inform your mentor whether the job will be finished early or late. Communication is very important in this field. For best practice, always confirm that you are on the same page as your mentor when it comes to deadlines and workloads.
Stay Focused (Prioritize)
This lesson is straight forward – stay focused on your work. At a fast-paced environment, deadlines come quick. Sometimes some tasks may be handed to you in the blink of an eye, which means you will not have as much time as other jobs. There were times where I had to help with short notice assignments and were due by the end of the day. I had to focus on every step I took in order to complete it on time. Some tasks tend to be more time sensitive than others, which means I had to prioritize tasks. Focus on the most important and you'll be fine!
Hard Work Pays Off!
This lesson is very important to me, as I always want to do the best that I can. I learned that ARCO DOES notice your dedication to the company and hard work, even as an intern. People in the office will notice your work ethic. They will see the time and effort you put into learning and completing the job. ARCO is filled with hard workers, which means that employees get treated nicely by the company. ARCO has made sure to treat employees well by giving unique benefits such as sabbaticals, sabbatical pranks, lunch & learns, free lunches, and even free outing events. Although the motive isn't free food, they are great reminders that you are doing well. Working hard shows that you are willing to put as much of yourself into the company as full-time employees, which will be recognized.
---
Interested in learning more about internship and co-op opportunities offered at ARCO/Murray? Check out our programs page by clicking here.