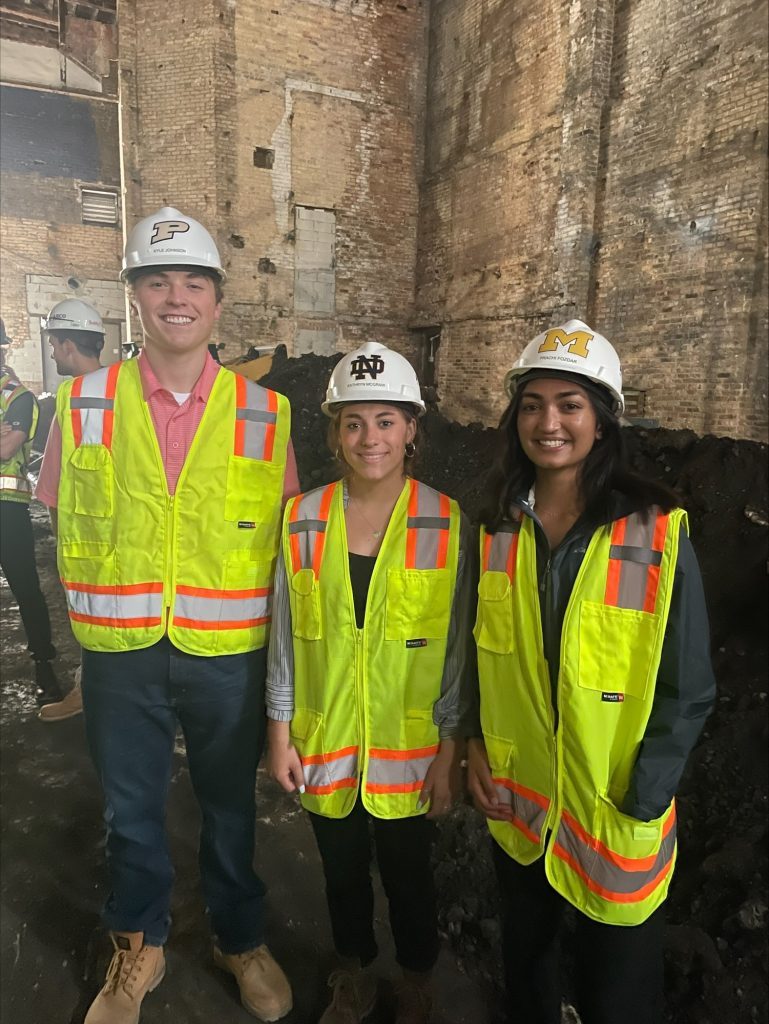 INTERN BLOG BY KATHRYN MCGRAW – Hi! My name is Kathryn McGraw and I am a Tenant Solutions Project Management Intern at ARCO/Murray. I go to the University of Notre Dame and I am a Mechanical Engineering major. I heard about ARCO in my dynamics class at school when they visited the class of my favorite professor and introduced themselves as a design/build company with internship opportunities. I had not really considered going the construction route but what caught my attention initially was how excited the speaker (a current Project Manager) was about his day-to-day work, as well as his office environment. I knew in the end that would be a big factor in my career decision, so I decided to give it a try!
Ask as many questions as possible – The biggest takeaway from my internship with ARCO is learning how to ask questions and not be embarrassed to do so. Coming into my internship with ARCO, I was completely new to the construction industry and had never been around the construction world or language in my life. I quickly learned that the only way to start understanding what I would be doing on a day-to-day is by asking questions. Every time I sat in on a meeting with a client, I would write down a list of words or phrases that I did not understand and meet with my mentor afterwards to discuss what they meant.
Talk and meet as many people in the office as you can – My favorite thing about ARCO is the office environment. There is always someone around that can help you if you are stuck on something or someone that has dealt with the same problem you may have in front of you. The daily work environment that ARCO provides is something that is unmatched. Everyone is ready and willing to help and genuinely wants each other to succeed. Relationships with fellow employees is just as important as relationships with subcontractors and clients. This is something that I quickly learned through lunch breaks, happy hours, and simple interactions in meetings.
Reach out and get to know people in all different departments – The people sitting around you in the office are your main key to success. An important realization, especially in your first college internship, is realizing that a lot of the classes you take in school are not as relevant as you hoped. The main key to learning is getting to know your coworkers, even if they are in different departments, and talking to them about how they got to the company and how their projects are running/advice they have for you. This will help you find your niche at ARCO and expose you to all different types of work, as well as help you learn how other verticals of the company differ from yours.
Working hard is working smart – Time management is a huge thing that I have had to deal with during my time at ARCO. As the internship teaches you, everyone at ARCO needs to be cognizant with their time management simply to finish all their work. As in school, it is important to prioritize things that are more important than others. A good way to do this is by making a list either at the beginning of the day or at the end of the day. This is just one way to stay organized and help you with time management. In regards to my initial point, being a hard worker is something that we are often encouraged to be as children and throughout school as we grow older. This is something that is just as important, if not more important, at the office on a daily basis. Between meetings, going to site, and traveling to and from job sites, there ends up being not too much time in the work day. By prioritizing my list of action items for the day, I was able to learn quickly how to manage my time and make the most of the work day.  
Don't be afraid to take initiative of your time and work – During my first few weeks at ARCO when I was learning the basics of what daily life looked like, I often found myself trying to find enough things to do that filled my schedule. I would try and finish the task I was assigned and found myself looking for other tasks to complete or learn. This quickly changed when I reached out to some other Project Managers and asked if they needed help with anything. Immediately I was given new tasks to do and this also helped my relationship with different Project Managers in the office, allowing me to learn about each of their respective projects and how they dealt with their day-to-day.
---
Interested in learning more about internship and co-op opportunities offered at ARCO/Murray? Check out our programs page by clicking here.