On August 11, 2021, By The Hand Club For Kids, Grace and Peace Revive Center and Intentional Sports joined the Chicago Fire Foundation, Jason and Vedrana Heyward and state and local leaders to break ground on a first-of-its-kind professional-level facility for sports, education and wellness in the North Austin community. The $31 million state-of-the-art campus will be constructed by ARCO/Murray and GMA Construction Group.
The facility will help close the opportunity gap for youth on Chicago's west side through access to education, leadership development and sports training, including soccer and baseball programming from Chicago Fire FC and the Jason Heyward Baseball Academy, respectively. It features 150,000-square-feet of indoor space, new outdoor turf fields and Chicago's only FIFA regulation turf arena for year-round indoor sport – the largest turf field on the city's west side.
The 10-acre project transforms a vacant parcel of land on North Laramie to ensure families in the community have access to team sports, education, enrichment and wraparound services that help form the foundation of a strong, healthy and safe community. The campus will house after-school programming for more than 400 youth and over 100 free community hours per week. Through the work of the Chicago Fire Foundation, the Fire will offer more than 20 hours per week of free soccer programming for the community.

"It's truly remarkable to see our vision take shape here in the North Austin community," said Donnita Travis, founder and executive director of By The Hand Club For Kids and lead organizer for the development. "The campus and the world-class programming that it will offer will truly be the hands, feet and love of God on display for our children and community. We are beyond grateful for our partners and all those who have invested their time and resources to make this campus possible; they are reshaping the future for so many young people in Chicago."
The project is supported with a $1.5 million capital grant from the State of Illinois, which will assist with brownfield redevelopment of the former Glidden paint factory. The grant provided critical resources that enabled community leaders to break ground on the campus this summer and open to the community in the fall of 2022. Overall, the project will support 75 permanent jobs and 200 temporary construction jobs.
"Our Rebuild Illinois capital program is about more than just delivering new infrastructure investments to communities – it's about investments in brighter futures for our children. We're proud to put capital dollars to work with our support for the new community and youth sports center coming to Austin next year, bringing hundreds of local jobs along the way," said Gov. JB Pritzker. "By The Hand's new facility will deliver essential education, after school programming and health and wellness services that will benefit the entire community. Working in collaboration with our leaders in the General Assembly, we are delivering essential investments like this one that will enhance the quality of life for our Illinois residents, attract additional investment in the area, and strengthen our local economy for years to come."

"A hallmark of Governor Pritzker's capital vision for the State of Illinois is funding for community development projects that increase access to essential amenities, create jobs and enhance quality of life for our residents," said Sylvia Garcia, Acting Director of the Illinois Department of Commerce and Economic Opportunity (DCEO). "We are proud to support By The Hand's and Grace and Peace's investments in Austin with a Rebuild Illinois grant which will revitalize essential community space, leveraging it to expand education and wellness services for children and families in the area. This is one of several key projects underway today in Chicago and around our state to ensure all of our communities have access to dependable roads, bridges, schools, and community services needed to succeed in a 21st century economy."
By The Hand Club For Kids, the holistic after-school program that takes students by the hand and walks with them from kindergarten to college, will operate its sixth Chicago-area club on the campus. Occupying 30,000-square-feet of indoor space, By The Hand will serve more than 400 Chicago Public School students on-site, promoting academic excellence and nourishing them mind, body and soul. By The Hand currently serves approximately 1,600 CPS students from Chicago's south and west sides.
Longtime community cornerstone Grace and Peace Revive Center has been operating on the North Laramie site since 2018 and will continue providing critical wraparound services spanning education, health awareness and advocacy for North Austin residents. Food banks, domestic violence counseling, transitional housing and advocacy workshops are just a few of the services that will be available on-site.
"North Austin is our home, and we are very proud to be investing in its future," said Pastor John Zayas, founder and pastor of Grace and Peace Church and CEO of the Revive Center. "We hope this campus serves as a beacon of hope and opportunity, signaling to our community that we are committed to improving the quality of life and access to resources for our neighbors on Chicago's west side."
Anchoring the development will be Intentional Sports, a not-for-profit organization working to close the opportunity and access gaps that persist in youth sports. Young people in underserved communities like North Austin are four times less likely to play sports and six times more likely to quit sports due to costs.
Intentional Sports will provide best-in-class youth sports academies, competitive opportunities and health and wellness training across 120,000-square-feet of indoor space. The facility expects to host approximately 25,000 participants per year, with adult leagues, camps and national tournaments generating revenue to sustain the facility and provide low-cost and no-cost options to local athletes and their families.

"We are trying to change the landscape of North Austin and its surrounding communities, and we believe equitable access to sports, education and leadership development is the way to do that," said Andy McDermott, founder and president of Intentional Sports. "Not only are we bringing a first-of-its-kind facility to Chicago, but we're giving young people on the west side a chance to play in a world-class space, right in their own neighborhood. It's a winning combination."
Intentional Sports will debut multiple youth sports and leadership academies when the campus opens, in addition to soccer programming from the Chicago Fire and baseball programming from the Jason Heyward Baseball Academy.
"ARCO/Murray is proud to be a part of this historic moment for the city of Chicago, and more specifically, the North Austin neighborhood. Our values and strong commitment to driving social impact directly align with all the wonderful programs that will be brought into this 10-acre facility," said Brad Dannegger, CEO of ARCO/Murray. "We look forward to partnering with GMA Construction as well as local community members and subcontractors to bring jobs and a sense of local ownership into the project."
ARCO/Murray is also the design-builder on The Terminal, an INVEST South/West Initiative down the street in West Humboldt Park.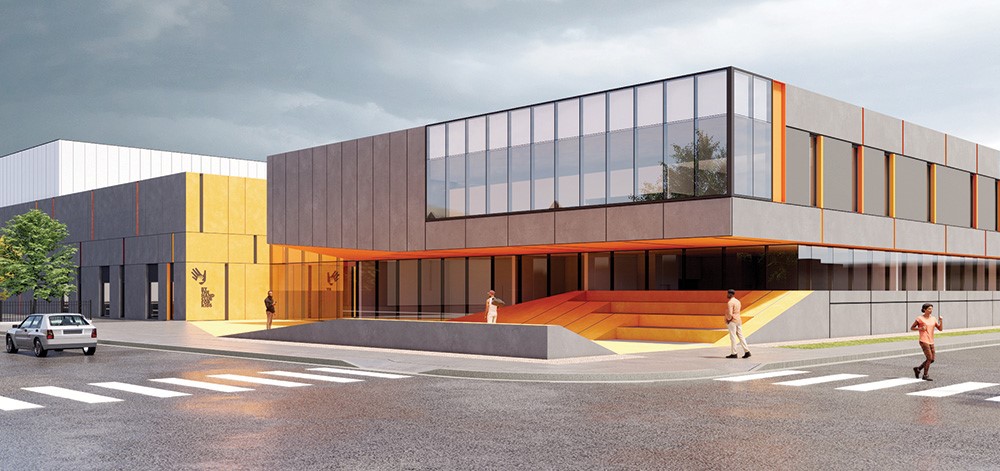 Architect: TEAM A
__________________________________________________________________________________
The Chicago Fire Foundation
The Chicago Fire Foundation and Chicago Fire FC are committed to expanding access to the game of soccer for Chicago-area youth and their families. Through the contribution to the community campus, the Chicago Fire Foundation will establish a permanent home for its community outreach programs, which include its award-winning P.L.A.Y.S. (Participate, Learn, Achieve, Youth, Soccer) Program.
Established in 2013, P.L.A.Y.S. aims to enhance the academic performance and development of key social and emotional (SEL) skills of elementary school students through a sports-based curriculum. To date, it has generated more than 250,000 hours of soccer across 40 Chicago Public Schools and serves nearly 1,000 youth each year. The Fire's proven curriculum and hands-on approach to cultivate a love of soccer and a commitment to sportsmanship will be a key part of the programming at the community center.
"The youth within our Chicago community deserve to have access to first-rate facilities and high-quality programming within their neighborhoods," said Executive Director of the Chicago Fire Foundation Jessica Yavitz. "Investing in our youth through soccer not only teaches sporting skills, but also social and emotional learning traits and values. By teaming up with By The Hand Club For Kids, Grace and Peace Revive Center and Intentional sports to create the North Austin community center, we're able to provide a safe place for the community to come together and play for years to come."
Jason Heyward Baseball Academy
Chicago Cubs right fielder Jason Heyward and his wife, Vedrana, continue their philanthropic efforts, making a substantial financial gift and committing their resources to launch the Jason Heyward Baseball Academy, a sports training and leadership development program for players of all ages and skill levels. Housed on the campus, the Jason Heyward Baseball Academy will introduce the game of baseball to thousands of youth on Chicago's west side while providing education, leadership, mentorship and skills training to build strong athletes and community leaders.
"Sports play a defining role in building character, forging opportunity and changing the lives of young people," said Jason Heyward. "Vedrana and I are committed to helping lift Chicago's youth and leveraging our skills and resources to make a difference in our city. We've been longtime supporters of By The Hand and couldn't be happier to be a part of this incredible effort."
As director, Jason Heyward, together with his personal coaching staff, will take a hands-on approach, guiding all aspects of the curriculum for participants ranging in age from 18 months to college-age athletes. In conjunction with the Baseball Academy, Vedrana Heyward will launch Girls on the Diamond, a holistic collection of programming geared toward helping young women discover their passion, harness their talent and develop life skills to grow into confident, well-rounded and powerful women – on or off the baseball diamond.
Since making Chicago their home in 2015, the Heywards have been steadfast in their commitment to helping improve the lives of Chicago youth in underserved communities through their ongoing support for By The Hand and Cubs Charities, the designated charity of the Chicago Cubs. The Jason Heyward
Baseball Academy is the latest representation of the couple's commitment to Chicago-area youth, and they plan to continue their philanthropic support for both organizations. The campus will be developed in partnership with Chicago Neighborhood Initiatives and built by ARCO/Murray and GMA Construction Group. For more information about the campus or to inquire about employment opportunities, please email info@bythehand.org.
By The Hand Club For Kids
By The Hand is a Christ-centered after-school program that takes kids by the hand and walks with them from kindergarten through college, loving and nurturing them—mind, body and soul—and helping them have an abundant life. By The Hand began in 2001 serving 16 students from Cabrini-Green. Today, it serves more than 1,600 students annually in five sites across Chicago neighborhoods: Cabrini-Green, Altgeld-Murray, Austin, and Englewood. By The Hand programs prioritize academic excellence, technology-enabled instruction, enrichment and literacy, tutoring and mentorship and spiritual development to help students become agents of change. For more information or to get involved, please visit www.bythehand.org.
Grace and Peace Revive Center
Grace and Peace Revive Center is a North Austin-based community center whose purpose is to unlock the potential in and with the surrounding community. Grace and Peace Revive Center provides holistic care for youth and adults across education, health awareness, advocacy and community-linked services that build on individual, family and community strengths and develop the individuals' and families' capacity to thrive.
Intentional Sports
Intentional Sports is a not-for-profit organization that stands committed to providing competitive sports opportunities and health and wellness activities for everyone, leveraging a best-in-class athletic facility in the heart of Chicago.
Chicago Fire FC
The Chicago Fire Football Club was founded in 1997 on the 126th anniversary of the Great Chicago Fire and will celebrate its 25th season in Major League Soccer in 2022. The Fire have won six major domestic championship titles, including the 1998 MLS Cup, the 1998, 2000, 2003 and 2006 Lamar Hunt U.S. Open Cups, as well as the 2003 Supporters' Shield. The Club's charitable arm, the Chicago Fire Foundation, was recognized as ESPN's 2019 Sports Humanitarian Team of the Year. The Fire plays their home matches at historic Soldier Field. For more information, visit chicagofirefc.com.
###